What is a Good Bounce Rate, And How to Get It: Full Guide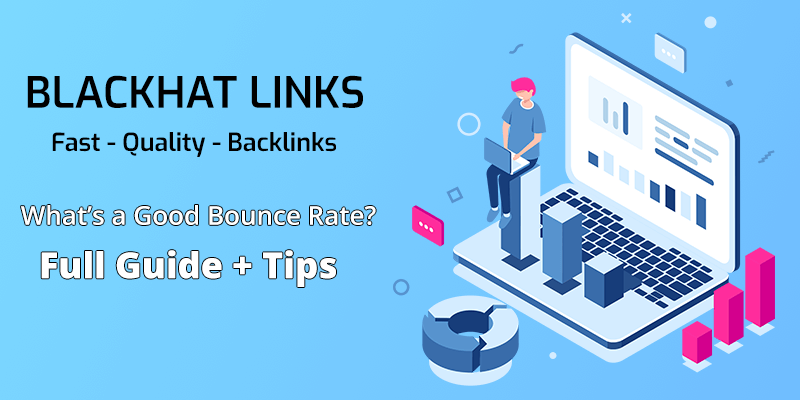 Those of us that work in the search engine optimization industry continuously strive to optimize websites in order to increase traffic and conversions.
But sometimes, there's zero data to work with: users are literally entering a webpage and exiting it for no apparent reason!
The segment of users that do this contributes to a metric known as "bounce rate". It can be jarring and incredibly costly if left unchecked.
This is why today we're going to tell you exactly what bounce rate means, what is a "good" percentage of bounce rate and how to lower it ASAP.
Let's begin!
Bounce Rate Definition

Bounce Rate is a Google Analytics metric that represents all those users that enter a website and do nothing before exiting.
This means there's zero interaction: No engagement (or any other sign of conversions) for any goal, before finishing a session with a measly page view.
Competent SEO experts track this metric to make sure it falls under "acceptable" percentages since it can indicate issues such as:
Website Responsiveness issues,
Poorly met search intent,
Low-quality content,
Poor conversion optimization,
The discussed topic (by its very nature), adds little value to your website.
Sometimes people go on your website, get what they came for, and leave without a second thought. It's true that some content works this way.
But we'd argue that for most industries and website types, this isn't the case.
Most of the time a high bounce rate indicates there's something wrong with a particular website. And it's preventing you from fulfilling key business goals.
So, how can we know what is a good bounce rate (or rather acceptable) bounce rate, and when is it "bad"?
The answer requires context, which we'll provide.
What is a Good Bounce Rate Percentage?

Your website's optimal bounce rate will depend on a number of factors:
The nature of your website,
Your industry,
Type of traffic,
The kind of products you're displaying,
Historical data.
Seeing how it's impossible to generalize a number for this metric, we'll refer to industry standards.
A study conducted by GoRocketFuel placed the average Bounce Rate across all websites between 41 to 51%.
Ok, that tells us very little. Let's check average Bounce Rates across different kinds of websites:
Average Bounce Rate for E-commerce and Retail:

Business To Business Websites

Lead Generation Websites:

Landing Pages

Blogs

Okay, now we're getting somewhere.
As we can see, Bounce Rates for E-commerce websites is on the lower end of the average. This is because visitors tend to "shop" around and visit different product pages before exiting the website.
Lead generation websites have a bounce rate that sticks to the internet's overall average. This is because these websites require some form of interaction from the user in order to fulfill its goal. It might refer users to a contact page, for instance:
Landing pages have a higher bounce rate compared to other types of websites because:
They're very sales-oriented,
Users get the information they need and exit the website
Blogs have a similar bounce rate to those of landing pages, mainly because users tend to visit a specific piece of content a blog ranking for and promptly exit once it's obtained.
Evidently there's a big gap between 65% and 90%, and that's where conversion rate optimization and bounce rate mitigation tactics come into play (which we'll discuss in a bit!).
Traffic Type

Bounce rate also varies depending on traffic type, or rather, where your visitors are coming from.
ConversionXL estimates the following bounce rates by traffic source:
Display Traffic (Ads)

Social Media Traffic

Direct Traffic

Paid Search Traffic

Organic Search

Referral Traffic

E-mail Traffic

Unsurprisingly, traffic from Ads and Social Media both have the highest bounce rate of all sources.
On the other hand, traffic from organic search tends to attract users who interact more with your website.
This is consistent with the fact Search Engine Optimization has the highest conversion rates when it comes to inbound marketing strategies.
E-mail traffic has, on average, the lowest bounce rate (with referral traffic reporting similar numbers). Which makes sense, since most people that signed up to your Newsletter (or product promotions) are already interested in what you have to say.
Lastly, referral traffic has amazing bounce rates because it usually comes with an implicit voucher: whoever linked their friend, coworker or family member is recommending your website for a very specific reason or goal.
Now you got data from reliable sources regarding what kind of bounce rates you should aim for.
Great!
What now?
Well, no doubt you'll want to lower your bounce rates average to healthy levels, or make them even lower in order to optimize your conversions.
And that's exactly what we're going to do.
How To Lower Bounce Rate
Improve Content Readability
Nobody likes walls of text.
For many, it brings them back to college days and obligatory mandatory readings. Clicking a PDF file only to be met by a page full of text wasn't cool.
Our first advice is: don't do this to your readers!
If you're guilty of doing this, don't worry! Don't re-write your entire article yet.
All you need to do is give it some format following these tips:
Break up big paragraphs:
Content that you can skim through is content that lowers bounce rates. It's as simple as that.
Wall of texts have zero space between them; thus, it can't be easily skimmed through.
Start by breaking up big paragraphs into 1-2 sentence mini-paragraphs.
Trust us: Using the remaining white space coupled with multimedia resources will help you reach ideal bounce rates.
Ideal font size:
Everyone has their own suggestions of what the ideal font size is.
We think its best to optimize for mobile users first so we use 18 pixels.
Anywhere between 17px and 20px can work though! Feel free to run your own tests.
Use Multimedia

Studies show that we are most likely to remember images than words (written or spoken!).
And it just so happens that content with lots of imagery tends to perform better in general.
This goes to show how important user experience is in SEO. This is why we suggest you kill two birds with one stone:
Seeing how images help users retain information, add some carefully designed Call-To-Actions in the form of images throughout your content!
Not only will this boost conversions: it will lower your average bounce rate too!
You'll still have to use non-CTA imagery throughout your content of course. And trust us, with your newly acquired white spaces, there'll be plenty of opportunities to do so.
Use headlines
Headlines are an integral part of copywriting and written language though. They help us segment content quite effectively.
So, if your content is particularly dense, adding headlines to separate sections or emphasize a point will do wonders.
From an SEO standpoint, this will allow your content to rank for more keywords too! We recommend including some LSI keywords and expanding on them whenever possible.
Lists / Bullet Points

Making lists will force you to condense important information into tiny bits that your audience will love.
Use them to your advantage!
So, to summarize content readability:
Break paragraphs into 1-2 sentence mini-paragraphs
Use headlines
Add multimedia to your written content (images, videos, etc.)
Make lists
Now that your content has been revamped, let's talk about loading times
Cut Down Loading Times
Google themselves have stated that slow-loading pages have higher bounce rates.
To be honest, a few of us have contributed to this statistic.
Trying to buy a product from a website that takes ages to load on mobile ticks us off.
So, we leave and make sure their competitors get our money.
Pleasing (somewhat) petty users like ourselves is fairly simple though: Just head over to Google's Page Speed tool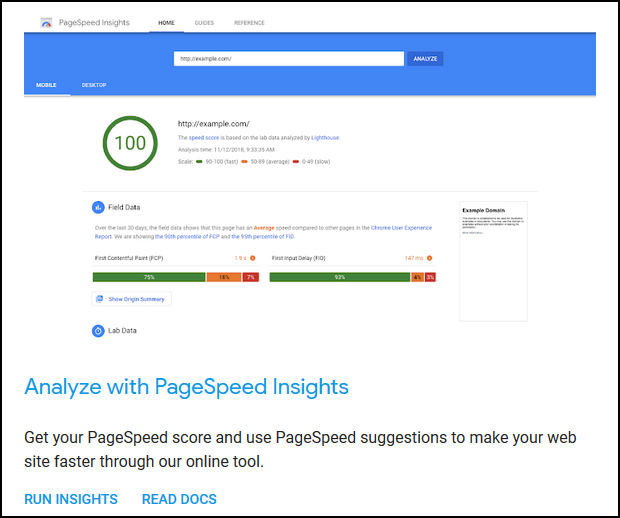 This tool analyzes your entire website (including its code) and gives you a score. This score gives you an idea of how much work is ahead of you.
Next, click on "Opportunities"
You'll find a laundry list of things you can do to lower your loading times and get a good bounce rate.
There's a good chance image files are sticking like a sore thumb. Here's how to fix that:
Optimizing Images for Speed

SEO experts agree that images tend to be the main reason behind long loading times. In our experience, this is true.
First, what we like to do is use Caesium (or Mass Image Compressor) for lossless compression. This means that your image's file size will decrease without compromising your image's quality.
Alternatively, you can use a WordPress plugin such as WP Smush or EWW Image Optimizer.
They'll streamline the entire process for you, but keep in mind their free versions have limitations.
We like to use as little plugins as possible and go with traditional image compressors, but this is merely a preference.
As long as you compress all your images, you'll notice a big difference.
Implementing a Cache
Many web hosting providers include their very own cache plugin for your WordPress installations.
In case yours doesn't, we recommend W3 Total Cache or WP Rocket. They both come with extra features you can play around with, but we highly recommend you backup your WordPress before doing so.
Sadly, some WordPress themes don't synergize well with some of the more advanced settings and could break.
Our advice? Try them only as a last resource. First, you should try using a content delivery network.
Use a Content Delivery Network
Our favorite speed booster comes in the form of a Content Delivery Network (CDN).
CDNs find out where your visitor is located and loads your website's resources straight from a server near them. This drastically cuts down on loading times.
They're fairly easy to set up and are well worth the money.
Once you're done optimizing your website's loading times, it's time we re-touch your content with links to lower bounce rates.
Lower Bounce Rates with Links

Setting up internal links throughout your content is a proven SEO tactic. But a very underrated aspect of doing this is that it helps lower bounce rate.
Mainly because you're encouraging them to interact with other parts of your website.
Internal links also help from a conversion optimization standpoint.
Setting up Call-to-Actions is excellent for conversions, but it just so happens that a large portion of online buyers browses (on average) five different pieces of content before converting.
Either way you look at it, it's something you should be doing now.
Also, make sure that all your internal links open in a new tab. This will simultaneously extend session times and engagement!
Final Words
As a parting tip, we'd highly recommend you look into segmenting your traffic sources in Google Analytics.
Interpreting your web metrics in order to reach a good bounce rate is an ongoing process and this small step will do wonders in the long run.
However, if you're still struggling to get people to visit your website, we highly recommend you build your website's authority and rankings with proven professionals.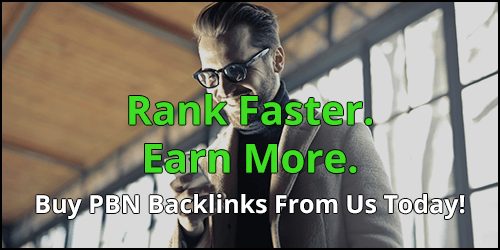 We at Blackhatlinks offer PBN backlinks packages that fit all budgets, with fully customizable links ranging from Trust-Flow 15 all the way to 40 that can get you on Google's first page in record time, where all the juicy traffic and money is!
Thanks for reading this guide!