SEO Competitor Analysis in 6 Easy Steps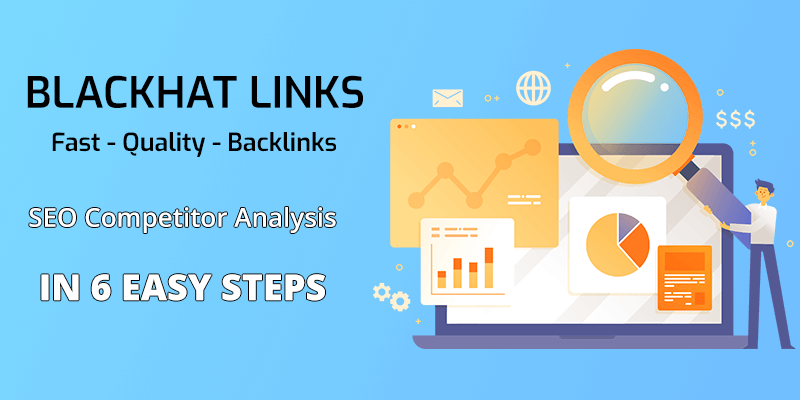 SEO competitor analysis is a crucial task all SEO experts need to master early on.
Being able to accurately measure how competitive a particular niche and rival website is essential to budgeting and SEO campaign planning.
But more importantly, it's the first step towards outranking your competitors and earning more revenue.
By the time you're done with this guide, you'll know exactly how to accomplish this.
Let's begin!
SEO Competitor Analysis Step 1: Your Website
The best way to visualize this entire process is through a real-life example.
Let's say that we're interested in selling weight loss pills through affiliate offers, and we want to monetize primarily through our website instead of social media.
Before we even start looking at our competitors, we need to register relevant SEO competitor analysis data into a spreadsheet.
Our competitor analysis for SEO needs to consider some basic metrics:
Domain Rating
Referring Domains
Monthly Search Traffic
Keywords Ranking
Active Blog
You can use an Excel sheet or a Google sheet to track all of this data. We recommend using a Google sheet since it's stored in the cloud and can be instantly shared with other members of your team.
Today, we'll pretend that we haven't even made our own website: we're merely interested in competing in this niche and wish to know if it's possible with our budget. So our reference values will be 0 for all metrics.
Here's what your sheet should look like:

Feel free to add any visual improvements to it. Now it's time to start finding and registering our competitor's data.
SEO Competitor Analysis Step 2: Find Competitors

Performing an SEO competitor analysis will let you know:
How strong your competitors are,
How competitive the niche is,
What's currently working in your industry,
A fairly accurate budget estimation for a successful SEO campaign,
Which SEO Tasks you'll need to focus on,
Competitor strengths and weaknesses.
And perhaps what's most important: if it's possible to beat your competitors in a reasonable time-window.
We've already completed our keyword research and found that the keyword "best weight loss pill" will be our main traffic driver.
Now, we head over to Google and see what the search shows.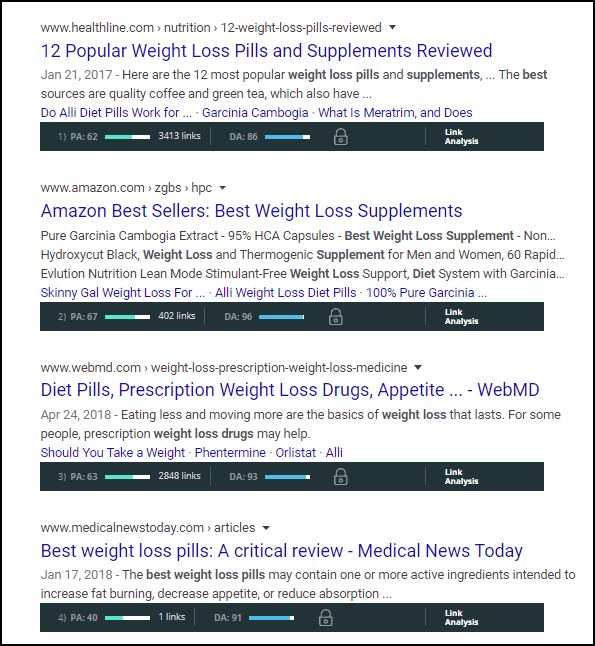 Some pretty high-ranking authority sites, no affiliates just yet.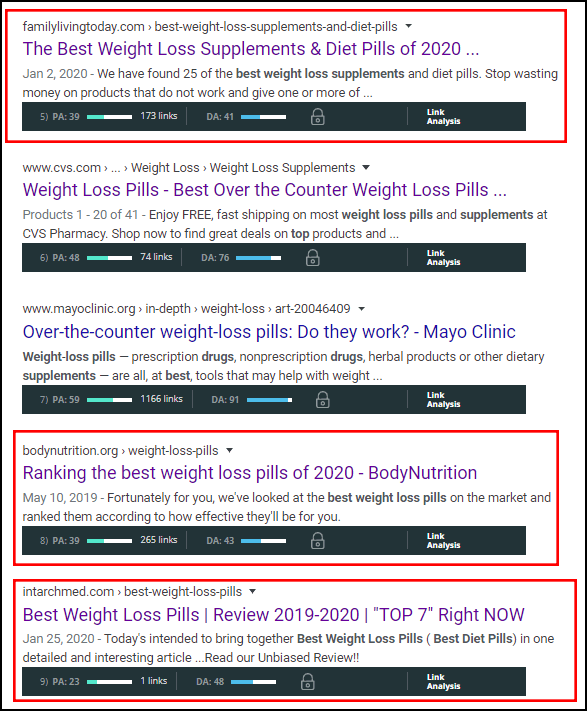 There we go! We've found some of our main rivals' websites. We can see that these three websites have active blogs

With plenty of affiliate offers and links dispersed throughout their posts.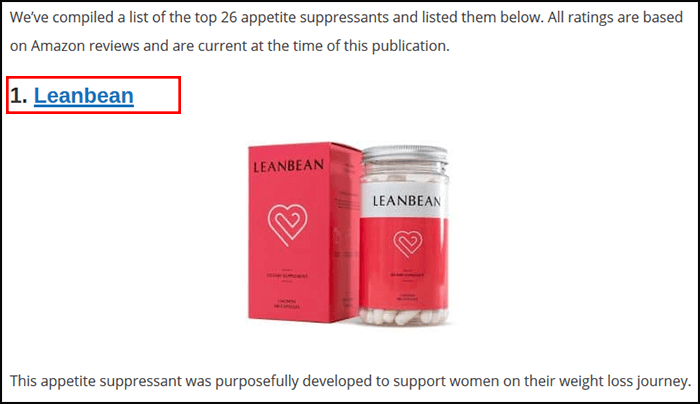 Right off the bat, we can tell that these websites have several categories, instead of niching-down they've opted to become larger authority websites that sell a host of products.
This tells us that if we opt to niche down to weight loss pills exclusively, we'll have a better chance of outranking them.
But, before we jump to conclusions, let's start registering some of our competitor's metrics on our sheet. I'm using the Mozbar since it shows Domain Rating on the search engine results page.
Our competitor's domain ratings are 39,39 and 23. It's fair to say this niche, in particular, is somewhat competitive, meaning it's not impossible to outrank these websites, but it won't be a breeze either.
Let's continue with referring domains.
SEO Competitor Analysis Step 3: Referring domains

Referring domains in an SEO competitor analysis is a critical metric you need to include in your spreadsheet.
We've talked about what is a backlink, and its importance in SEO today, if you haven't already, I suggest you take 5 minutes, read this article and then come back.
Done? Great!
By now you must know that the most efficient way to build domain authority over time is by accumulating high quality, topical relevant backlinks regularly.
Competitors with a large number of (quality) backlinks are tougher to outrank. Naturally, they also rank for a larger number of keywords.
Let's take a look at one of our competitor's backlink profile using SEMRUSH.
Go to "Backlink Analytics" and paste your competitor's URL in the search bar.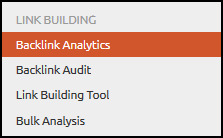 On the overview tab, you'll notice the total number of referring domains and individual backlinks.

Quick note: 
Referring domains are websites from which your competitor has one or more backlinks.
Backlinks are the individual hyperlinks.
If a website links your competitor twice, he'd still have one referring domain and two backlinks from said website.
Click on the "Referring Domains" tab to find out how many websites have linked to your competitor websites.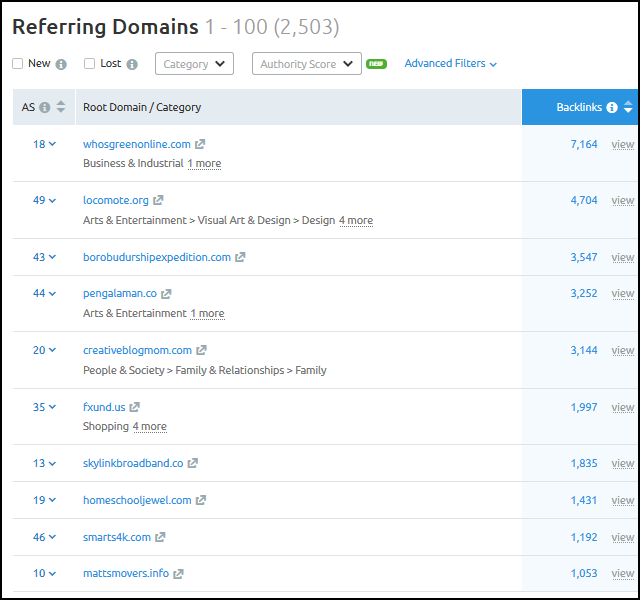 Here you'll find a complete list of the 2,503 websites that have linked to your competitor's website at some point.
SEMRUSH also shows you when was the first and last time it threw a backlink to your competitor. Neat!
Once you've registered the data on your data sheet, download the full report for further use.
Needless to say, getting links from over 2,500 websites sounds like quite a challenge.
Thankfully, you can buy PBN links from proven professionals and outwit your opponent sooner than you think.
We at blackhatlinks.com have created an enormous private blog network that covers 59 niches and 9 separate industries.
And we go through great lengths to keep our customer's investment safe. Take a look at this, for example: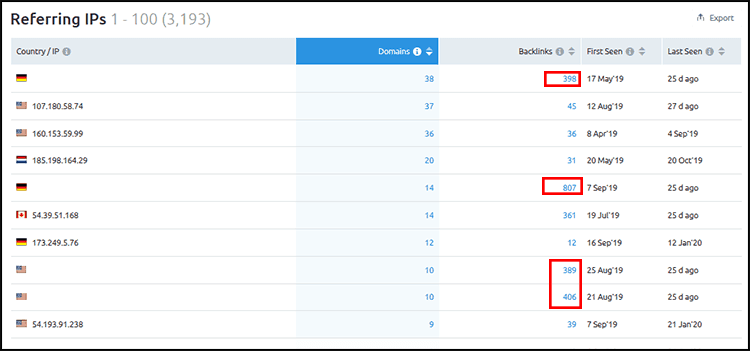 We took a look at a random website's backlink profile sorting by referring I.P
When a particular website hoards this many links from a single IP, there's a good chance Google flags all websites involved.
We don't do that.
We've been in this industry for well over 9 years and understand that our customers need safety and maximum value for their investment.
And we've delivered over 234,000 times.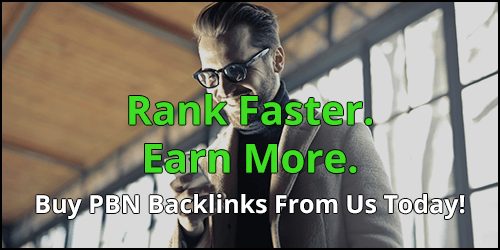 Most successful websites use PBN links to build authority, but it's important to do it the right way.
Once you're done registering your competitor's referring domain, head to the backlink tab and download the full report. You'll need to take a good look at it to determine just how good (or spammy) these links are.
Let's move on to the keywords tab.
SEO Competitor Analysis Step 4: Keywords Ranking
Researching your competitor's organic keyword ranking will let you know which keywords are getting most of their SEO traffic.
Head over to "Domain Analytics", then "Organic Research".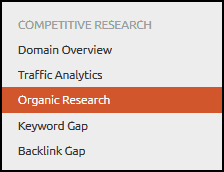 Then click on the "Keywords" section.

Next, you can sort by:
"Traffic %". This will tell you which keywords are driving the most organic traffic to them,
"Position". This sorts keywords by your competitor's rank on the SERP
You can even sort them by difficulty. Just keep in mind that these are estimations based on SEMRUSH's weighted variable algorithms for ranking prediction.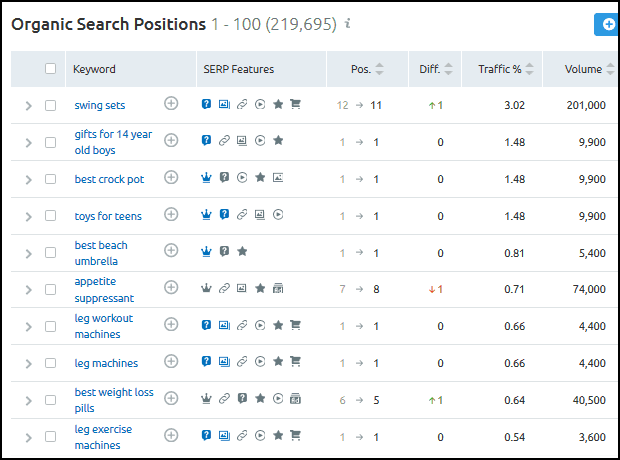 Meaning, that if you're confident you can outrank their content, then chances are, you can.
Once you're done sorting keywords by your preferred filter, download the entire report.
Sorting through this data will give you a (very) long list of keyword ideas that you could start targeting over the next months and years.
Depending on your monetization strategy (ads, affiliate offers or both), these keywords will overtake others in terms of priority.
For example, highly informational keywords that are high on the "Traffic %" filter will be particularly important for those looking to monetize via ads.
Affiliates might see some value in terms of organic traffic but will probably prioritize keywords with higher commercial intent.
Noticing patterns and prioritizing content creation based on business goals is essential. There's a lot of information to sort through here, so be sure to take your time.
Let's move on to the traffic tab!
SEO Competitor Analysis Step 5: Web Traffic
Looking into your competitor's organic traffic will not only tell you how well they're doing from a commercial perspective but also give you considerable knowledge on your audience.
Head over to "Competitive Research", then click on "Traffic Analytics". Once you enter your competitor's website, you should see the following on the "Overview" tab: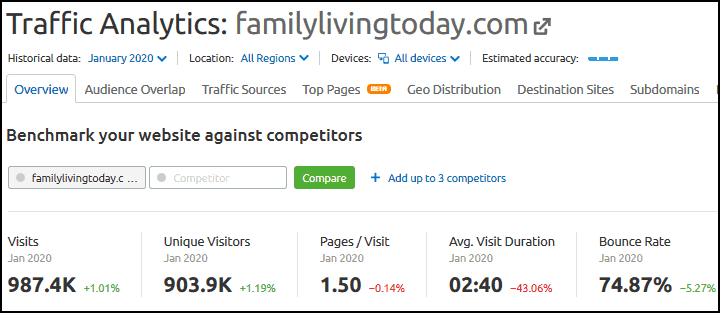 You'll notice the total number of visits, average page visits per session, duration and overall bounce rate.
It's a good idea to take your competitor's metrics and average them to have an "industry average" or benchmark to aim for.
We talked about bounce rate on a recent article, and it seems this particular's competitor bounce rate is within the average expected for blogs.
We can also see that this website's traffic heavily relies on mobile users.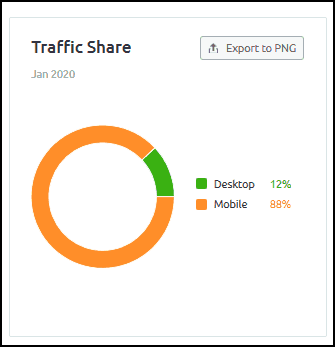 If we were to enter this niche to compete against this website, we'd have to prioritize responsive design and mobile user experience across the board. Not doing so would constitute a major monetary loss.
Traffic Sources
Traffic sources are also incredibly important.
In our competitor's case, direct traffic seems to take up a big chunk of their entire traffic.

Direct traffic is commonly interpreted as everyone that directly typed a website's URL directly in the navigation bar, or that previously bookmarked and accessed a website.
But that's only a fraction of what direct traffic entails.
For example, if you click a website's link straight from a Word document, the data will register your session under direct traffic.
On the other hand, if you click a link that has been previously shortened by, say, tinyurl.com then it'll also count as direct traffic.
We also noticed that most users that access this website do so from their mobile devices.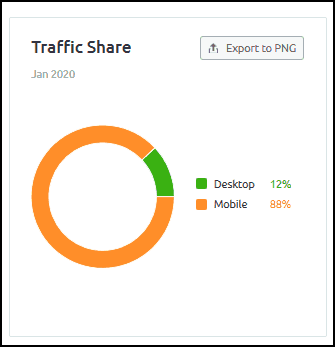 It just so happens that links from mobile social media apps don't really agree with Google Analytics and other tracking scripts, so they may not pass referrer information. When the source is unknown, it gets lumped with the rest of the direct traffic.
Sadly, some referral traffic is also counted as direct traffic because of browser issues. Hence, we recommend you interpret traffic sources carefully during this stage of your competitor analysis for SEO.
Unsurprisingly, this SEO competitor analysis also tells us that search traffic (organic traffic) constitutes a big chunk of their visitors.

Finally, we got the traffic by countries that tell us what kind of audience this website attracts. If you're looking to monetize via ads, you'd do well to remember that not all traffic is valued equally.
Traffic from 1st world countries tends to be more valuable in the advertiser's eyes, especially when you're targeting a particular age bracket with acceptable purchasing power.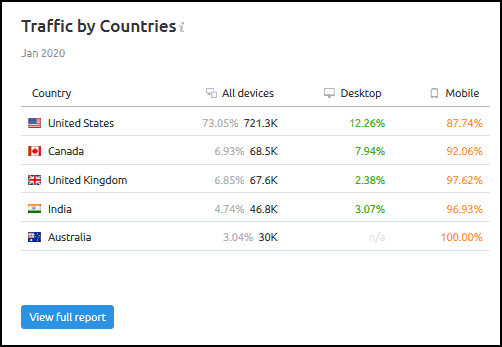 We recommend that you look at historical data too: notice if your competitor's traffic is soaring or decreasing across the board.
If you're able to contrast this data with Google Trends you might avoid investing in a dying niche. It's a process that takes 20 minutes (max), and could save you years of headaches!
SEO Competitor Analysis Step 6: Compare and Budget

So, you've finally filled your Google sheet with your competitor's information.
Great!
Now it's time you compare your metrics, with your own website's numbers.
An excellent starting point would be to compare your backlink profile to your competitor's. Calculate how many backlinks you'd have to accumulate over a year or even two.
Next, calculate an estimate of how much each backlink would cost, and you'll have a big portion of your budget.
After all, most SEO experts that want to get to the top of google search results understand that 60% of their budget goes to off-page SEO.
You must be realistic about long term goals, revenue estimations and how long it'd be before you start getting money back from your project. Sometimes overly competitive niches are just not worth the hassle.
Final Words
SEO competitor analysis, (along with a technical SEO audit) is one of the very first steps any SEO Campaign needs to complete in its planning phase. It's a major risk mitigator, and it helps greatly with your initial keyword research efforts.
This is, admittedly, a fairly short guide. A complete, thorough competitor analysis for SEO will require you to export all the data sheets we've recommended to unearth backlink quality, successful content and even PBN activity on your competitor's website.
Feel free to play with SEMRUSH options, or try AHREF tools as well. They're top-notch SEO competitor analysis tools that you'd do well to use.
Thank you for reading!