Definitive Internal Link SEO Guide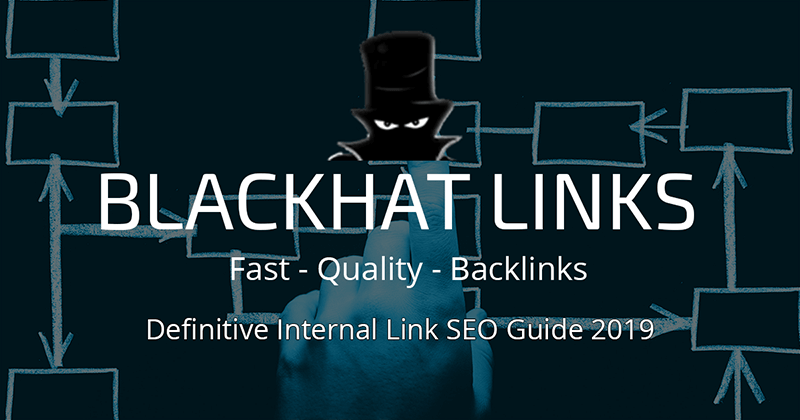 When you've been doing SEO for quite some time, you start to notice a certain pattern: we tend to focus on the top three ranking factors Google tracks in their algorithm.
Especially generating external backlinks.
And we tend to relegate internal link SEO, at least initially. And that's a mistake that (weirdly enough) takes time to finally overcome. Mostly because it forces you to reconsider internal linking SEO as an essential part of content planning and web structure.
But the fact is that internal link SEO can help you climb the search engine results listings without creating any new content.
If that alone isn't enough to pique your interest, then allow me to explain why you need to optimize internal link SEO for your website today.
What Are Internal Links

Internal links, basically connect one of your webpages, to another page of your website (unlike external links, that link to webpages in a different domain).
Internal links are everywhere, they're in your menu navigation bar, footer, sidebars and all over your content.
Why Are Internal Links Important In SEO

There are several reasons why you need to take internal linking SEO seriously, but I'll resume them to two main reasons:
Internal link SEO will help you improve your current rankings for targeted keywords
Internal linking SEO can improve your website's crawling, which is necessary for indexation.
You've probably heard the terms "SEO juice" and "PageRank" thrown around very often (even in our guides).
They're basically the same thing, and the only reason we don't expressly refer it in technical terms (PageRank) is because Google took out, or should we say, hid public PageRank scores almost three years ago.
But that doesn't mean it's still not an integral part of Google's algorithm.  In fact, there's evidence to believe it is.
Don't believe me? here's the smoking gun.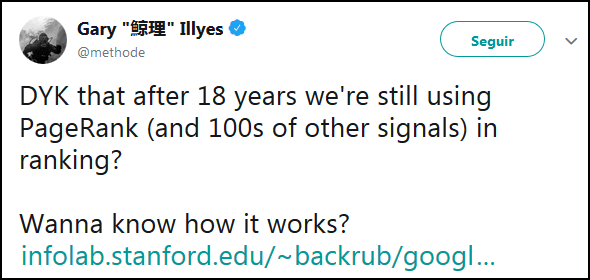 Internal link SEO is an exceedingly effective method for distributing PageRank, (or SEO juice) around your website's pages. The trick here is how to use it strategically, and without exceeding recommended limits (which we'll go over further down the guide).
Internal Link SEO for Crawling
Another huge reason why you can't afford to ignore internal linking SEO, is because they actively help Google crawl and then index all the pages on your website.
Google in their webmasters knowledge database, specifies: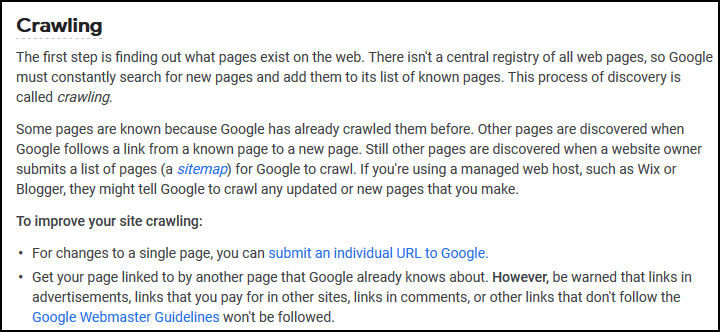 Internal Link SEO basically allows you to control which webpages you want Google to understand are related.
In other words, internal linking SEO is a topical relevance tool you can directly control. Especially if you have a clear structure that helps boost each of your internal link.
We're talking about silo structures.
Silo SEO And Internal Links
Before we continue, you need to read our Silo SEO mega guide.
Seriously. We've explained fairly in-depth how it works, and how you can properly structure your website leveraging a SEO charged silo structure.
For brevity's sake, I'll assume you already have and just do a quick recap so that we're all on the same page.
Siloing, or adopting SEO silos for your web structure, is essentially grouping together content that is topically related, and making sure they're all linked exclusively.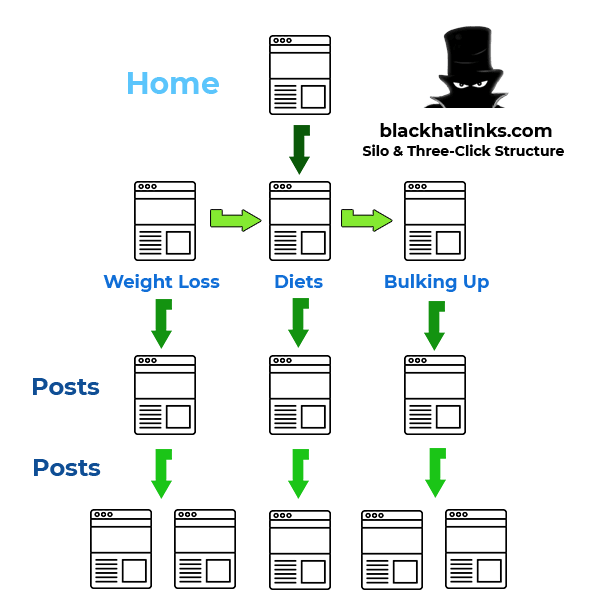 This means that typically, you won't link content from silo A or category A to content from Silo/Category B. Their respective links will rarely deviate from content that is labelled under their own categories.
The idea is to follow this internal linking structure without breaking the three-click rule. Which we also went over our Silo SEO guide.
Adopting this web structure and strategically following our internal link SEO tips, you'll guarantee extreme topical relevance, higher webpage crawling rates and of course better rankings in the SERP.
Internal Link SEO Tips

Now that we've recapped what Silos are, allow me to explain how exactly your internal links should look like with a series of tips designed to take your internal linking SEO game to the next level. Let's start with your Homepage links.
Filter your Homepage Links
Chances are, that your homepage is the most authoritative page on your website. This means that you'll distribute more SEO juice straight from your Homepage than say, that Blogpost you published last week.
Now, here's the thing:
Your navigation menu has a bunch of destinations, as does your Footer. Each of those links counts as an internal link. And if you're not careful, you can exceed Google's recommended internal link limits, and send precious PageRank to websites that are way down in your priority list.
It's very important that you direct your users to the most important locations. So, keep your navigation menu and footer as slick and clean as possible.
Some actionable tips would be to have a "Featured Post" section that links to your most important articles (sales pages or important blog posts), and to have your Blog linked in the navigation menu.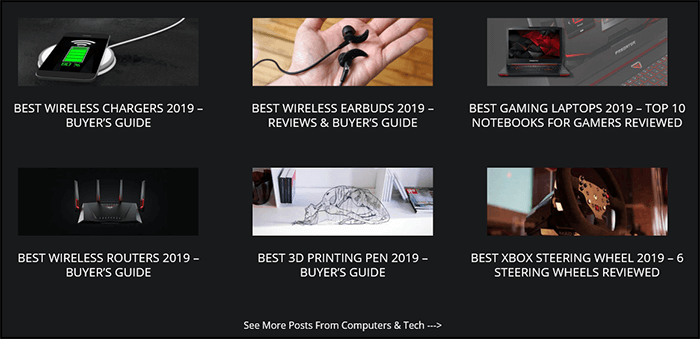 Why?
Because your Blog will also link ALL of your published content. You're effectively passing down SEO juice to all of them. Sure, it goes through your main Blog webpage first, so it gets diluted, but it's considerably better than nothing.
The featured post section should be reserved for high value pages, AKA any piece of content that helps you fulfill your goals. For affiliate marketers, for example, it'll be their money articles, and for web gurus, it'll be their course sales page.
Considering removing locations that see little to no traffic. It helps keep your internal link limit on the safe side, and makes your website much easier to navigate.
Strategical Internal Link SEO

We've covered our Homepage links, but there's other pieces of content that have accumulated over time considerable SEO juice. Just as you did with your homepage, you need to filter what is currently being linked.
That way you'll make sure your high value pages are also linked from it.
We've mentioned some of the best tools for SEO in the past, and for this section of the guide we'll use AHREFs.
Go to "Site Explorer"

Then choose the "Best Pages by Backlinks" option, and filter your content.

Click on "Internal Links".

Visit your top pages, and insert links to your high value pages. This will require a minimum amount of creativity and figuring out the right anchor text.
That's pretty much it. You now have extra high targeted, powerful backlinks for your high value pages.
If you're unsure about what anchor text you should be using, worry not, you're about to find out.
Optimizing Your Anchor Text
The anchor text is the clickable highlighted text that can open the target web page. And if you want to fully optimize your website's internal linking SEO, there are some tips you should consider:
Include Keywords In Your Anchor Text
That's right. Feel free to use exact-match anchor text in each of your internal links. Remember that we're trying to help Google understand what our content is about, and being as exact as possible is recommended.

Unique Anchor Texts
For the sake of helping Google crawlers, instead of confusing them, make sure that all your anchor texts are unique.
What does this mean?
Well, let's say that you run a sport shoes affiliate marketing site, and you got two articles: "best shoes for crossfit" and "best shoes for lifting".
Using "best sport shoes" as your anchor text for both of these articles is a terrible idea. You might consider it's related and targeted because it's a seed-keyword, but all you're doing is confusing Google.
Instead, use your exact-match keywords for each of these anchor texts. You can also use LSI (Latent semantic indexing) keywords, as long as they're directly related to your target content. Just make sure they're unique.
On the other hand, if you're linking your "best shoes for crossfit" article twice, Google is only going to recognize and relate the first anchor text it crawls, which is why you should prioritize your exact-match anchor text before resorting to your LSI.

The only reason you should use your LSI anchor text is because:
You're already #1 on the Search Engine results page for your exact-match keyword
You're on page 2-3 for your LSI on the SERPs.
Follow these rules and you're guaranteed to be using the most effective anchor text for you.
As a last tip, try to keep your internal link numbers in a page to fewer than 100. This may seem like a lot, but you need to consider that:
Links in your sidebars count as internal links
Links in your navigation menu count as internal links
Links in your footer count as internal links
You can break this rule, but your SEO link juice will be diluted to your target pages, so keep that in mind.
Use Dofollow Links Exclusively

This should go without saying, but ALL your internal links need to be dofollow links.
People talk about the importance of diversifying your link profile and including nofollow links, and they're absolutely correct, but nofollow links should come from outside sources, never internal.
You'll have plenty of opportunities to get nofollow links, so don't sacrifice some of your most targeted links into needless diversification.
Final Words
Internal link SEO is very simple once you understand what Silo SEO is all about. Figuring out what your high value pages are, and strictly following your laid-out web structure to boost topical relevance is the hard work.
You're now able to:
Strategically link high value pages for maximum SEO link juice distribution
Determine the best anchor texts for each of your internal links
Fully understand internal linking SEO best practices
The truly difficult work is getting high TrustFlow external links to your website… Or at least it used to be.
With our ultra high TF+40 PBN Blog Post Backlinks you can now expand your backlink profile with keyword optimized, SEO juice packed blog posts from high authority websites – at the best rates.

We've worked on over 169,000 orders, and we've delivered on each of them with amazing results for over 17,000 clients. That's because our eight years of experience has told us how important it is to guarantee results and complete safety for each project.
So, once you're done with your internal link SEO optimization, be sure to buy PBN backlinks for industry professionals, and take your SEO game to the next level!
Thank you for reading!