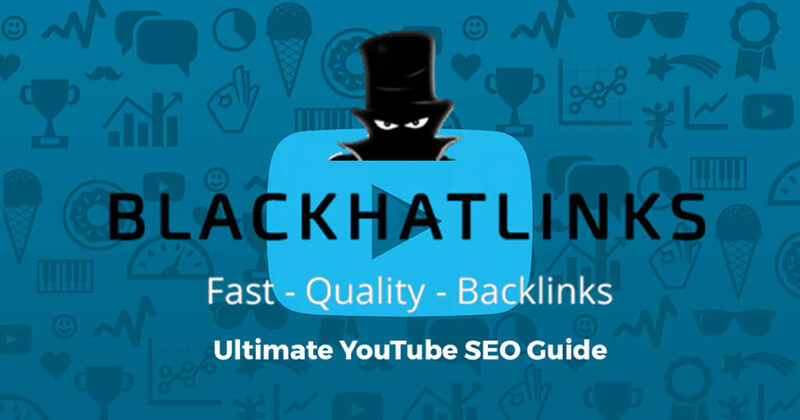 The Ultimate YouTube SEO Ranking Guide
YouTube is a big deal, and ever since Google bought Youtube back in 2006, the need for a Youtube SEO guide has become increasingly apparent for businesses and internet marketers in general. While it's obvious that delivering quality content to your audience is the very first thing you need to focus on, there are quite a few Youtube SEO tips that can give you that edge over your competition, so let's get started!
The Complete YouTube SEO Guide
– Ranking Factors –
First things first, if we want to rank our videos with YouTube SEO, we need to understand what are some of the known ranking factors in its secret algorithm, so I'll start by mentioning the most relevant ones:
1. Ranking Factor: Audience Retention
In its early days, SEO was all about getting tons of backlinks (never mind their quality) and massive content input, however, Google eventually changed their algorithm and effectively ended the initial ranking models that involved obvious spammy practices. When it comes to YouTube SEO, the same thing happened: initially it was all about views (and just like backlinks today views are still important), but YouTube now cares way more about audience retention.
Audience retention (or average user watch time) is one of the biggest YouTube SEO ranking factors, it is basically the amount of your video that people watch, for example, if someone exits your 4 minutes long video on the two minute mark, your audience retention for that user and video will be 50%. Your goal should be to keep this metric as close to 100% as you can, not only because it means people find your content interesting, but because it makes people click on more ads over time thus producing a win/win situation for YouTube as well as yourself.
So how do you boost your audience retention?
Here are a few pointers:
Avoid long introductions: You should mention the topic of your video within the first 10 seconds of the video to let people know they've found what they're looking for.
Follow up whenever possible with a real-life case study, testimonial or preview of what you're about to showcase on your video. Remember that social proof is one key fundamental aspect of marketing.
If you don't have a case study, make your audience a question and while your video develops provide its answer (most preferably right at the end of it). For example "you might be wondering what "X" is, and how it can help my business grow… (topic develops throughout the video) and finally concludes with the answer on how X makes your business grow"
2. Ranking Factor: Engagement and Social Signals
Creating reliable and powerful engagement signals for your videos can be tough. Many people try to set up their own reviews account networks only to realize they're costly to maintain due to YouTube and Google's anti spam controls, such as SMS account verifications, anti-spam measures and faulty bots/scripts that end up doing more harm than good. While following our YouTube SEO tips on our YouTube SEO guide will definitely help you rank up.You might be wondering what user engagements are for: basically, they tell YouTube that people are enjoying your content, and social media signals indicate that your videos are being shared with others. Both are signs of a positive user experience (which ultimately, is YouTube's and Google's goal). Some engagement metrics are:
Comments
People that have watched and/or enjoyed your video tend to drop a comment. Ask your viewers to comment on a specific part of your video, try to avoid generic lines such as "let me know what you think" while doing so.
Subscribtions AFTER watching your video
This is perhaps one of the most powerful engagement signals listed in this YouTube SEO guide, and it makes complete sense. Personally, I like to browse YouTube for good, unknown musical talent and once I finish listening to a song I like, I immediately subscribe to the artist's channel. YouTube has picked up on this behavior, which is why they consider subscribes AFTER watching a video such a big engagement signal.
My recommendation: Simple, ask people to subscribe at the end of your videos (add a button to make it extra easy) and consider buying a high-quality YouTube SEO Pack that incorporates this powerful YouTube SEO tip (more on that later!).
Thumbs up/down
Pretty straightforward, if people like your video they'll drop a thumbs up before (ideally) subscribing
Social Shares
Social Signals are a relevant factor in this YouTube SEO guide because they are intimately related to high ranking videos. From an objective point of view, every time your video is shared on Facebook or other platforms, you're bringing people to YouTube that watch ads and bring them revenue, plus it's also a powerful engagement signal since people tend to share only quality content with their friends.
Feel free to use our Social Signal Checker to review your current Social Media Stats:
Click-Through Rate (CTR)
Click-through rate refers to the percentage of people that click on your results after searching for the keyword you've targeted. Being able to hook your prospects as soon as they see your thumbnail, title and description is very important, because the more people click on your result, the bigger the boost your video will get. The best way to accomplish this is by creating powerful and engaging thumbnails and titles, one quick YouTube SEO tip we suggest is to avoid using white, red and black in your thumbnail colors since it blends with YouTube color scheme, as well as using CTR-boosting words on your title and description.
3. Ranking Factor: Keyword Optimization
YouTube has gotten smarter, but it still needs help to understand what a video is about: that's why optimizing your title, description and tags is so important. Don't worry, we'll tell you the exact, step by step method along with some YouTube SEO tips on optimizing your videos on the Video Optimization section of this YouTube SEO guide, for now, let's just focus on finding those amazing, high value keywords.
---
The Complete YouTube SEO Guide
– Keyword Research –
Every SEO worth his salt knows keyword research is one of the pillars of any SEO strategy, and when it comes to YouTube SEO, this principle applies. There is an assortment of free and paid tools you can use to find your keywords depending on your budget:
YouTube Autosuggest Feature
YouTube Autosuggest is incredibly underrated and easy to use. You simply enter a keyword or phrase that is related to your topic or niche, and YouTube will suggest you popular keywords. I recommend you saving variations of your keyword you think are interesting (you can even punch in some of them, get even more long tail keywords and save them as well!).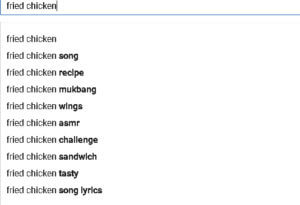 Study the competition with VidIQ free chrome extension:
Many SEO poach the competition's AdWords campaigns descriptions and keywords in order to boost their click-through rate. We're going to apply the same tactic on this YouTube SEO guide and turn it into a helpful YouTube SEO tip. Just head on to YouTube, find a channel in your niche and sort their videos by "Most Popular".  Once you've located a video, check out what keywords are used in its title, tags, and descriptions with the VIDIQ chrome extension. You can use YouTube's autosuggest bar or other popular tags/keywords to find more variation of keywords within your niche.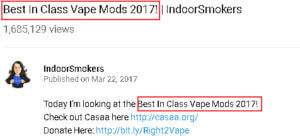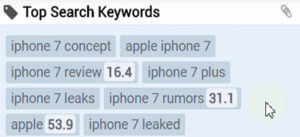 Now that you have your list, you can finally determine which keywords are best for you, and that is going to largely depend on your budget. Basically, if you can afford YouTube SEO packs to boost your engagement metrics, you can go after some medium or high competition keywords in your niche, which will, in turn, earn you money considerably faster.
We actually offer YouTube SEO Packs that are tailor-made to skyrocket your YouTube videos using high-quality social signals that look natural, guaranteeing you'll get a great ROI on your investment. However, if you're short on money, you can still look for some low competition keywords in your industry or niche and use some of our YouTube SEO tips.
All you have to do is enter your keyword, and check the "About X Results" section. Keywords with Low results count might be interesting for you, at least until you can boost your videos with a YouTube SEO pack. It's also not a bad idea to check if the keyword you chose has some Google traffic as well (you can use Google Keyword Planner to check this out). While this is a YouTube SEO guide, we believe getting extra views organically from Google is always a solid plus.
Now that you have chosen your keywords, it's time to optimize your videos around them, and we've outlined a very simple, step by step approach on the next section of our YouTube SEO guide.
---
The Complete YouTube SEO Guide
– Video Optimization –
Video Filename: Include your target keyword and the word "Video" after.
For example, "Best_fried_chicken_recipe_Video"
Video Title: Start your video title off with your main keyword, and use a parenthesis with the current year at the end.
For example: "Best Fried Chicken Recipe: We Tried Them All! (2018)"
Tags: Don't spam unnecessary tags, it'll just throw off YouTube and it won't know what to rank you for. Your first tag should be your exact keyword, the next two should be two variations of your main keyword, and then 2-3 broad topic/industry keywords. Remember to save a tag slot, we're going to give you an amazing YouTube SEO tip guaranteed to get you traffic in our next YouTube SEO guide section!
For example: "Best Fried Chicken, Tasty Fried Chicken, Crunchy Chicken Recipe, Chicken Recipe,  BBQ Chicken"
Description: Write a short summary if your video (around 200 words). Make sure to include your keyword at least three times (it should be included once in the first 25 words). This will help YouTube understand what your video is about.
Optimizing your thumbnails: Use colors that contrast with YouTube: Orange, green, blue are all great picks. Remember to use bold text in your thumbnails as well and try not to exceed the 25 characters mark.
Video length: If at all possible, try to extend your videos past the 5 minutes mark, being 15 minutes the absolute ideal. Having said that, don't extend your videos for no good reason since it could potentially end up costing you views and money and compromise your content's quality (which should be your #1 priority).
Audio/Transcript: Remember to say your keyword in the first 20 seconds of your video (if you have audio).
Quick YouTube SEO tip: Google is becoming increasingly better at understanding and transcribing your voice.
Great! We're nearly done with our YouTube SEO guide! We've finished our YouTube SEO keyword research section and we've thoroughly optimized our video to match our keywords, now we're going to go over our Top 5 YouTube SEO tips and tricks that we've tested with amazing, consistent results. Let's jump right into them!
---
The Complete YouTube SEO Guide
– Top 5 SEO Tips and Tricks for Youtube –
TIP #1: Leveraging your competitor's channel for traffic
Let's be honest: ranking a YouTube video can be difficult, and often you'll be competing with people who have already established themselves in your industry or niche. This YouTube SEO guide is all about thinking outside the box, which is why we decided to include this somewhat sneaky (but completely legal!) YouTube SEO tip, and that is to add your competitor's channel name as a tag in one of your videos. This way, you'll show up in their "related videos" sidebar when people watch videos from that channel! Talk about racking up some easy views.
Tip #2: Get 15-30% more traffic and views with closed captions to YouTube Videos!
Closed captions were implemented by YouTube to make videos accessible to deaf, ESL viewers and people using a device with no sound. Google has always rewarded inclusive content that accommodates as many users as possible, and YouTube is no exception. You can also upload a transcript, but we highly recommend you take the time to create captions for your videos.
Tip #3: Exclusive to WordPress users: Install Yoast Video SEO Plugin
WordPress is one of the biggest content managers, and its amazing plugin library no doubt has something to do with it, which is why our YouTube SEO guide can't emphasize enough on getting Yoast Video SEO Plugin. You can automatically add video rich snippets and schema to your content that will rank you in the Videos tab in Google search. It's an instant traffic boost, and one of the most powerful YouTube SEO tips in our guide.
Tip #4: Optimize your About Tab in YouTube for more traffic
There is a lot to optimize in your YouTube about page, and it's often overlooked. The centerpiece of your about page is your banner, which is why we recommend hiring a designer that can create a strong, informative banner with your unique selling proposition or tagline that communicates: who you are, what you do, why you do it and how you do it.
Once you're done with the banner, remember to click the Edit icon in the top right-hand corner of the description and links section. Add a short description of your business, link your website, social media accounts and other relevant links (for example, if you're an affiliate marketer, it's a good idea to link your money articles here). Last but not least, adding a Google Plus page in this section also adds publisher tags to the YouTube channel code so this may help your overall SEO efforts.
Tip #5: Add fitvid.js to your Java Scripts
If you're a WordPress user, you're in luck: the fitvid.js jQuery plugin will auto resize your embedded videos to match the windows size. Without this plugin or script, the video embeds on your website will overflow outside the viewable area on a responsive website. Given the fact that mobile users are on the rise, it's mandatory you accommodate as many devices as possible. Not only does Google penalize non-responsive websites in the rankings, you'll also lose traffic if your embedded videos aren't on point!
You can get the script at https://github.com/davatron5000/FitVids.js
---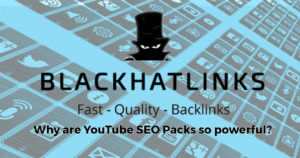 How to rank my YouTube Video on Search engines?
We can't end our YouTube SEO Guide without mentioning our YouTube SEO pack.
The truth is, ranking videos in YouTube is hard, however, if you follow our YouTube SEO Guide, you'll no doubt have a better shot at competing for keywords in your niche; but chances will take some time before you start ranking for low competition keywords, thus making your ROI slower than you'd like since building trustworthy engagement and social signals takes time.
It's important you know that there are excellent professionals in the SEO industry that understand exactly how to rank YouTube videos that allow wise investors to quickly rank for high competition keywords.
Content creators also tend to seek these services because their time is better spent creating quality content and letting professionals take over their YouTube SEO. Affiliate marketers are also regular clients of SEO YouTube Packs since they often need to seize new, low saturated niches before the competition does, and they're able to secure incredibly high competitive keywords right from the get go. All thanks to a strategic investment in professionals that understand the ins and outs of YouTube and its algorithm.
CPA marketers also regularly benefit from YouTube SEO packs since they're able to rank on the top of YouTube listings on new, emerging markets. They also understand how critical it is to seize opportunities before they're gone, and waiting months is often a luxury they can't afford. In the end, it's all about working with experts on the field that are able to guarantee consistent results that feel natural in YouTube and Google's eyes, which is why we highly recommend you follow our YouTube SEO guide and take a look at our YouTube SEO Pack, specifically designed to take advantage of your optimization and skyrocket your videos to the top of YouTube.
Thank you so much for sticking with us to the end of this YouTube SEO guide!
Feel free to contact us if you have any doubts!