Super Easy Drag & Drop System
You will definitely love this tool.
Save 90% of Your Time
Create a template and reuse it for all your websites.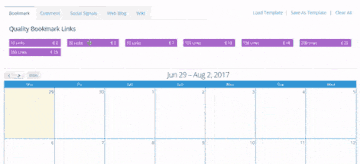 Super Easy Order Process
Within a minute you can place a order.
The SEO Planner will save you a lot of time and money!
SEO Planner Usage
Add a new package
Drag a package from the top package menu straight into the calendar click on a day.
Edit a package
Left click on a package.
Clone a package
Move a package with right mouse button to another day.
Remove a package
Drag & Drop a package outside of the calendar or click the "X" at the top right corner of a package.
Move a package
Move a package with left mouse button to another day.
SEO Planner Demo
Leave DEMO mode and create your first SEO Plan now!
Tired of playing?
It's time to get serious and let the real magic happen!
Create your first SEO Plan and get top rankings for your website!
Payment Type: Choose how to pay. Credits or Paypal. You can save up to 30% when paying with Credits.
Order Name: Fill in a meaningful title for your SEO Plan.
Order Description: Fill in details you like to remember when you view or edit the SEO Plan in future.
Article Keyword: This is the Keyword we use to find related content. We create unique content for Web 2.0, Wiki and Bookmark links.
Article Title: This is the Title we use for your articles. You can use Spintax.
URL: Fill in your URLs. You can use spintax.
URL: Fill in your Image URL for Social Signals.
Keywords: Fill in your Keywords. You can use spintax.
Textfile Formatting
: URL#Keyword
You can use Spintax for URL and Keywords. Check the
.txt file rules
.