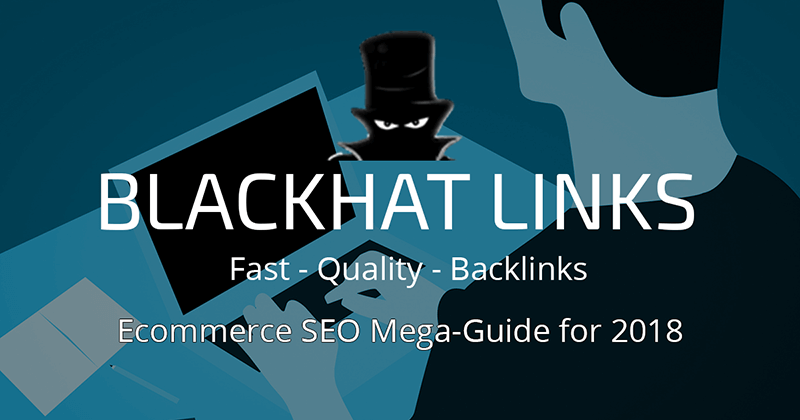 Ecommerce SEO Complete Guide for 2018
Just about everyone has heard of Amazon, eBay or Macy's at some point, but in case you've been living under a rock for the past decades, all of these online portals are known as ecommerce websites and they have their very own specialized ecommerce SEO guidelines, tips, and challenges.
Ecommerce websites are, in a nutshell, online portals that facilitate online transactions of goods and services in exchange for information or money.
The most common and popular ecommerce websites nowadays are retail sellers, but it ecommerce is quickly making its way to music portals, consultant's websites and even different service providers who wish to offer their clients a quick, secure and convenient way to purchase their services and products.
When it comes to ecommerce SEO, the work involved is one of a kind. It's focused on highly targeted traffic, conversions and high octane click-through rates. Even the written and media content these websites house (not to mention its architecture and content distribution) are different from your typical website.
Some things, however, stay the same. And we'll begin with the very foundation of effective SEO: keyword research!
Ecommerce SEO Keyword Research

Keyword Research is particularly important for ecommerce SEO. Several online marketing agencies offering ecommerce SEO services are swimming with work because of the level of on-page optimization and the sheer number of keyword research that they have to conduct on different product pages.
Keyword research in commerce SEO is going to impact your traffic, conversions and even your website architecture. The first step is to find a multitude of keywords combinations that revolve around your product(s).
Conducting your own Keyword Research is an option, we've even made an article on the best SEO tools you can use to that end. But we've found in that in ecommerce SEO, it's highly recommended that you first take a look at your competition's keywords, or more specifically, your competitor's long tail keywords and product keywords and build your own list from it.
I know what you're thinking: but wait, what if I'm competing with Amazon, and other big online retailers? How am I supposed to outrank them?
Simple. We're going to out-optimize them, get additional keywords we can rank for and we're going to pump your product pages with PBN backlinks and a mix of other SEO tips and tricks that'll get you right to the top. But we're barely getting started, so bear with me and don't skip any steps!
Amazon is absolutely massive. It has tens of thousands of product pages, and it's impossible to optimize each and every one of them, and many businesses just rely on its massive Domain Authority to rank first for their keywords. And that's where we come in and capitalize!

Plus, there's a good chance you'll find some sort of variation of their keywords that are just as good and has low to no competition. Just imagine what we can do with them!
I suggest we start our keyword research for ecommerce SEO straight from the source: the biggest ecommerce platform today, Amazon.
Amazon is quite literally filled to the brim with strong commercial keywords. Simply go to their website, type your product's main keyword, and start scrolling through their suggestions! The Amazon suggest bar is absolutely amazing, and it'll get you a robust initial keyword list you can later on research, with our nifty VRBC formula.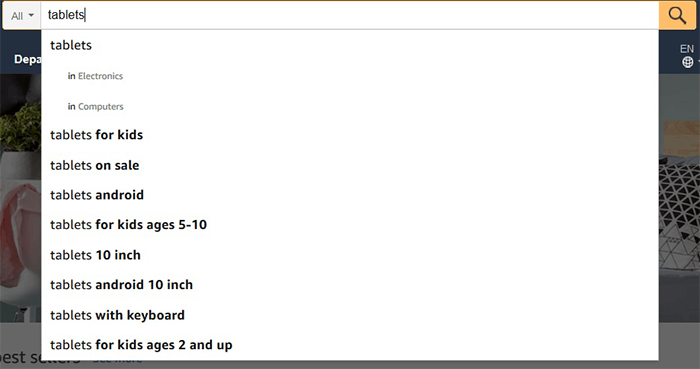 Scraping your direct competitor's keywords
Another easy way to get keywords, is again, by looking at what your competitors are already ranking for. This isn't something that you'll want to do on giant ecommerce sites or retailers like Amazon, but rather on your direct, industry competitor's websites.
SEMRUSH and AHREF are excellent tools for this.
AHREF Keyword Scraping
Using the XML Scraper Google Chrome extension, I download my competitor's XML file so I have an initial list of keywords they're using for their categories and products pages. Then I use the keyword explorer to find alternatives.

Another option is to use the Site Explorer module, enter my competitor's domain and organize their pages from top to bottom by their traffic.
Here, you can find out potential long tail keyword combinations you can use yourself. A popular modifier for them could be your brand name or even a specific country you're targeting.
For example, "brand name + weight loss products" or "your weight loss product USA". These are common variations, and they might not be listed initially in your keyword explorer module. These sorts of modifiers can have seriously targeted traffic behind them. Give them a try!
This is because, for example, a lot of consumers in the US look for FDA approved, or legal compliant products for themselves, and/or are looking to save money on shipment by getting local suppliers for their products.
There's a valuable lesson here, and it's to always get in your prospects shoes, and incorporate this insight into your site's architecture and keyword distribution!
Don't forget to scrape keywords for your category pages as well! You have to keep in mind that your customers might need a little guidance in their shopping. For example, someone looking for some weight loss products might also be interested in buying, say, a waist trainer or some other workout equipment they can use at home.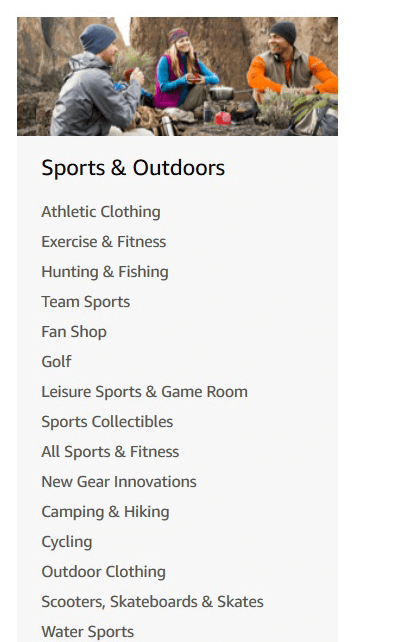 This is why you'll not only need to find specific keywords for your products, but also long tail keywords for your categories.
Scraping Keywords for your Categories pages
Go to Amazon, click "Shop by department" and then click the "Full Store Directory" link.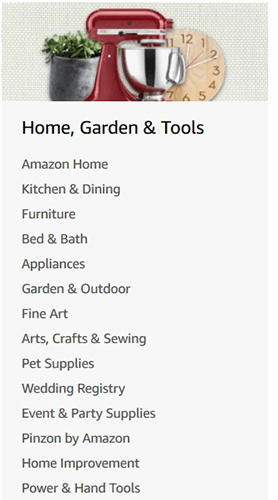 Once you're there, start clicking the most relevant categories for your products until you find something broad, yet specific enough to describe a line of product that you're selling.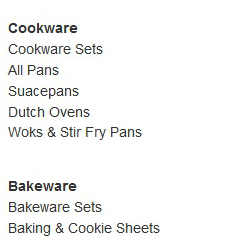 You can even add some small modifiers, like "best", or "reviews" to those keywords, or even other relevant modifiers. For example, if you're looking to sell natural products for weight loss, the "natural", or "healthy" modifiers to your keywords might be hidden gold mines!
Scraping Keywords with SEMRush
During our Best SEO Tools for 2018 article, we mentioned SEMRush as being one of the best all-in-one SEO platforms, especially because of how good it is for analyzing your competitors. By now, you'll probably notice that ecommerce SEO keyword research is all about scraping what your competition is using and modifying it for your prospects and products.
To start, simply type in your competitor's domain in SEMRush, and under "Domain Analytics", click "Organic Research".

That's it! You can literally see what keywords your competitors are ranking for, and what kind of traffic they're getting from it.
You can also click on the "Competitors" tab, under Domain Analytics, and repeat this process over and over. You'll end up with literally hundreds of combinations that you can, later on, adapt to your target and SEO budget.

How to pick the right Keywords for your ecommerce website
So, you've successfully scoured Amazon for potential keywords, analyzed your competitors and even used Google's keyword planner to complement your keyword database.
Now what?
Well, it's time to filter all of these potential gold mines and figure out which one of them are most likely to bring you the big bucks, and this is where we use the VRCC formula in ecommerce SEO.
The VRBC Formula

Volume:
Volume, or more specifically, search volume metrics for a specific keyword on the search engines is the first and most important filter in our ecommerce SEO formula.
Having some credit in your Google Adword campaign can give you some fairly precise data on what the average searches are for your target keywords.
However, I highly recommend you to run them through other services and tools, such as Moz, AHREF or even SEMRush so you get some fairly accurate estimates on the actual search volume behind a keyword.
You'll notice that depending on how saturated your niche or industry is, your interpretation of what a "high traffic" keyword (in numbers) will vary A LOT. You'll also find that in ecommerce SEO, benchmark numbers are very tough to gauge unless you've worked in a particular industry for a while.
Extra tip: don't forget to use Google Trends to pinpoint if some of your keywords are particularly powerful during certain times of the year.

Relevance:
Once you're comfortable with the search volume of your keywords, it's time to determine exactly how relevant they are to your products or categories.
It's absolutely key that you do not misrepresent what you're trying to sell. If you picked a keyword that is "related" but not exact to your product's description (just because it had a higher search volume), you'll find that a lot of your prospects will simply exit your website.
This translates to high bounce rates (which will hurt your ranking) and low conversion rates, despite offering a good product. This is what I call crappy ecommerce SEO, don't do this to yourself and your business!
Also, don't overcomplicate things: If you think you can relate a high-volume keyword to perhaps, a product category (instead of a product), then you're welcome to try it out! Just remember to keep your product keywords highly relevant to what you're selling.
The next filter in our formula is our prospect's / Buyer's Intent
Buyer's Intent
Remember our ecommerce's site definition at the start of this guide? We're basically running a website whose #1 objective is to sell products online. This is why, when we pick our target keywords, we need to ask ourselves if these keywords are something a potential buyer would type in the search engines.
We have an amazing advantage over the stores at the mall, we can actually filter out potential windows shoppers, and stick to the high paying, converting clients just by choosing the right keywords!
For this, we're going to use Google Keyword Planner. Simply type in your keyword and take a look at the "Suggested bid" column.
This metric tells you what people tend to spend on a single click in Google Adwords. The higher this number, the better. Keep in mind, however, that very profitable keywords are generally very tough to rank for, or maybe they have a very low volume search.
Understanding and balancing these two metrics is very important, and this is a big reason why it's better to let your ecommerce SEO be handled by professionals. At some point it's not just about knowing how to handle the tools and understanding the fundamentals behind online marketing but knowing how to actually "read" the market and make predictions.
Now we're down to our final filter: Competition.
Competition
Getting an idea on how hard it'll be to get a spot in the first page of the SERPs is fundamental, especially because you have to budget how many resources you're going to need to position yourself up there for a set of keywords.
Keyword difficulty can vary from tool to tool, so I recommend using different tools to get a good estimate on how difficult your target keywords are.
Go into SEMRush, type your target keyword. Then go into the "Keyword Analytics" tab, and click on "Keyword Difficulty"
I also recommend you use Moz's keyword explorer and Google Keyword Planner tools to get estimates. You can even calculate an average between their scores and go for something well within your budget.
Now that we've selected our money winning keywords, let's figure out how we should distribute them across our website.
Ecommerce SEO: Site Architecture

Organizing your website, pages, and its content into a seamless, intuitive experience for your prospects is actually simple if you follow our ecommerce site architecture golden rule.
Imagine you're working on your inventory, making your individual product pages and before you know it, you have over 200 pages and you still have five or more categories of products to go!
This is one of the first challenges in ecommerce seo: there's just a ton of product pages that you have to make accessible to your customers, and easy for the Google Bots to crawl.
How can we do this?
You follow a simple, timeless rule in Ecommerce SEO site architecture:
Make sure every single is within three clicks from your homepage.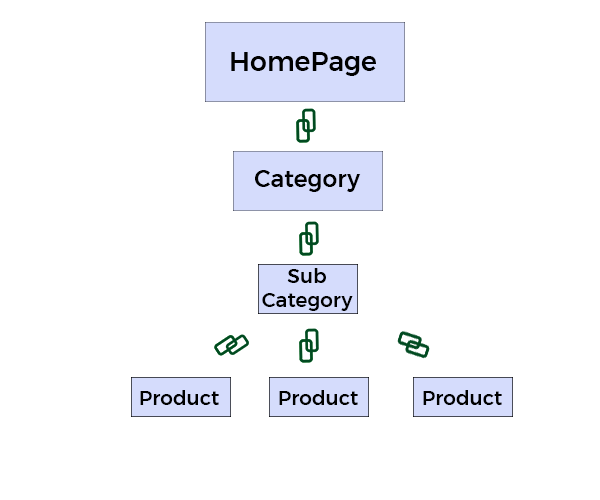 If you follow this rule, you'll find yourself with a set number of product categories, and you'll make it easier for everyone involved to actually find and get your products on their shopping carts!
Following this rule will also guarantee your SEO linkjuice distribution is on point. Most of your PageRank and link authority will go to your homepage (since it's the easiest to link to!), which is why you don't want your product pages to be too far away (click-wise) from your homepage.
My advice? Keep things simple!
Try to go for a simple, intuitive site architecture that makes it easy for customers to navigate through your product categories and find your top selling products in a matter of seconds. If your inventory and products allow it, feel free to cut off the sub-categories.
Concentrate a lot of authority on your categories and let that link juice transfer over to your product pages. A healthy mix of guest posts, web 2.0s, and private blog network links will do the trick. If you really want to climb those rankings, buy PBN backlinks for your product pages and you're golden!
Ecommerce SEO: On-Page SEO
A big share of the work that goes towards maintaining an ecommerce website comes from generating content for product pages and optimizing them. Ecommerce SEO companies are often given contracts that last well into 6-12 months precisely for this purpose (as well as product placement and promotion).
I'm going to list some of the basic SEO optimizations your product and categories pages should always include. Keep in mind you should try to find ways to scale these optimizations with your budget and inventory size.
Title Tag:

Your title tag should include your primary keyword, along with any other modifiers you believe can help you rank.
We've discussed some of these modifiers in the keyword section of our guide, and I highly recommend you use some variations of those. But here are some additional modifiers you can implement:
Review
Best
Free Shipping
Deals
25% off (or any number)
Lowest Price
These modifiers can help you find variations to your long tail keywords that you can also rank for while also help you boost your click-through rates (which in turn help you rank higher up in the search engines results pages)
Description tag:
Description tags have been reduced to Click Through Rate boosters. They should be customized for each product, but I recommend having a few templates you can use, and simply replace the product name as necessary.
For example, if your title tag is advertising free shipping for weight loss pills, your description could say: "Get FREE shipping on all our weight loss pills today!"
You can come up with variations of these templates, with sales, exclusive deals, guaranteed lowest prices online, etc.
Keep it simple: the goal here is to catch our prospect's attention with promises and guarantees of a good bargain.
Product Description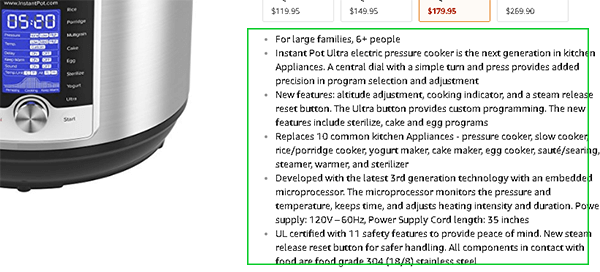 This is perhaps the most time-consuming pointer of them all. Why?
Well, for starters, we need to optimize each of our product pages, especially if we're competing with some of the larger Ecommerce sites out there. And that means, writing 1250 + words product description pages.
If you're on a limited budget, optimize your top 10 selling articles, and consider reinvesting some of your earnings into optimizing other product pages. You can also buy PBN backlinks for highly relevant links that go straight to your optimized product pages, which will, in turn, generate even more revenue for you to reinvest.
Keyword Density:
Keep your keyword density around 1-2%. It needs to be prominent enough for Google to know what your product and page is all about.
Some ecommerce SEO services believe it should be around 4-5%, but there's little to no data to corroborate this indeed correlates to higher rankings if anything you might be compromising content quality by keyword stuffing.
All in all, keep it simple and engaging. Your product description should make the sale for you and reassure your prospect that this product will satisfy their needs.
LSI keywords
You should always have a list of conceptually related keywords. They could be category related, or they could be long tail keywords you found on Google Keyword Planner "ad group ideas" tab when you were investigating your main keyword.
Ideally, you'll want to poach some of these from your competitors, just like we did on our initial keyword research.
Get a Product Review Schema on each of your products
Rich snippets are amazing for snatching those top SEO spots, and reviews are one of the absolute best and eye catchy snippets.
During our Best SEO Tools rundown, we mentioned Google's Structured Data Helper. It has an incredibly user-friendly interface that can help you.
Select "Products" and then paste your product's URL into the URL bar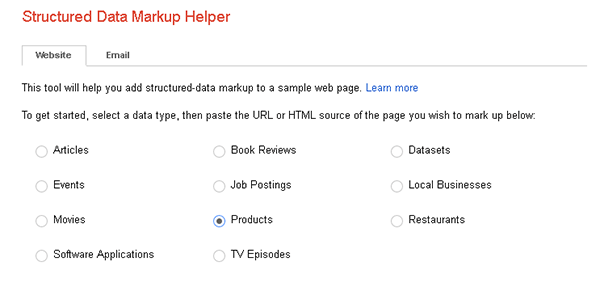 Right click your review stars and select "Review". Select a Reviewer.
Then select "aggregate rating", click on rating value and count. Once you're done, select all the HTML code and paste it on your page. That's it!
I'd also recommend slapping some positive social media signals and custom-made reviews for your products to get the ball rolling. You don't want to be #1 in the result pages with two 1/5 reviews left by the competition!
We've developed a Social Media checker you can use for your SEO campaign. Be sure to check it out!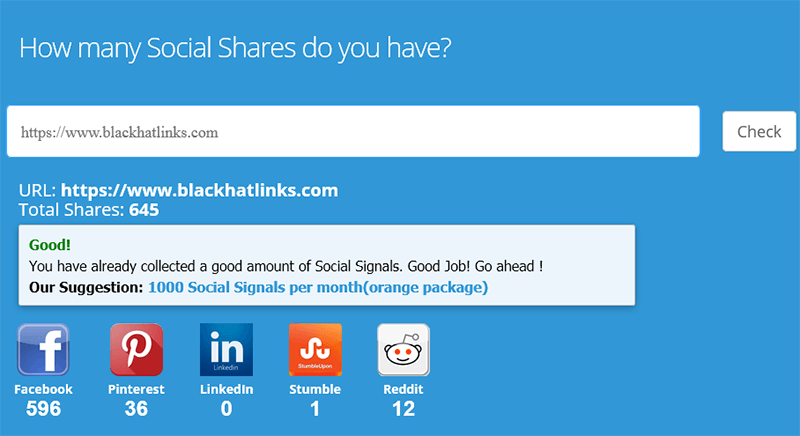 For category pages, I suggest you do simple product markups as well. Schema.org has a few templates you can use for these types of pages. They all add up and help Google relate your products to your categories, but the bulk of the optimization comes from the actual content and keyword targeting.
Closing notes and bonus ranking tip!
Congratulations! You've reached the end of our Ecommerce SEO guide. As you can see, the most crucial aspect behind successful ecommerce SEO, especially for new websites, is to conduct a thorough keyword research that is targeted to your audience and budget.
Ecommerce sites are mostly made up of highly commercial content since, after all, you're an online store. Finding websites willing to link you organically can be tough, which is why I highly recommend you buy PBN backlinks to your product pages and category pages.
Here's why:
Getting links directly to your homepage is considerably easier than getting a direct link to your product page (And ideally, you'll want some of your homepage authority to pass to your product page via internal linking!) but relying entirely on internal links and hoping your product page will magically get to the #1 spot in the SERPS is poor planning.

There are ranking packages specifically designed to help your product pages and reviews snippet go straight to the top of the SERPs, so be sure to check them out.
As always, feel free to comment with doubts or suggestions! We hope you enjoyed our ecommerce SEO guide!