Useful information about our Backlink Service
How do the Google updates influence linkbuilding and how to avoid penalties?
Is is not a secret that Google is constantly changing their Algorithm.
A detailed list of all Google Updates can be found here: https://moz.com/google-algorithm-change
Most updates punish sites for a low anchor text diversification or for a low link platform diversification.
So it is easy to avoid the penalty with a large range of generic anchor texts like click here, here, www, homepage etc..
Blackhatlinks.com released a list of generic anchor texts: Generic Anchor Texts List
When you order use a minimum of 30% generic anchor texts from that list and your moneykeywords plus longtail keywords (similiar keywords to your main money keyword). See our FAQ for detailed instructions.
Follow our proven Step by Step Guide to avoid links from just one platform to keep your website safe from Google updates.
General Link Building information
Most times customers are careful at purchasing backlinks or SEO services.
But we offer backlink packages of every size to suit the custom needs of every client.
Here is an example of googles standard procedure after a client uses a backlink service.
(Yes, thats real data from a real website at a midterm competition keyword)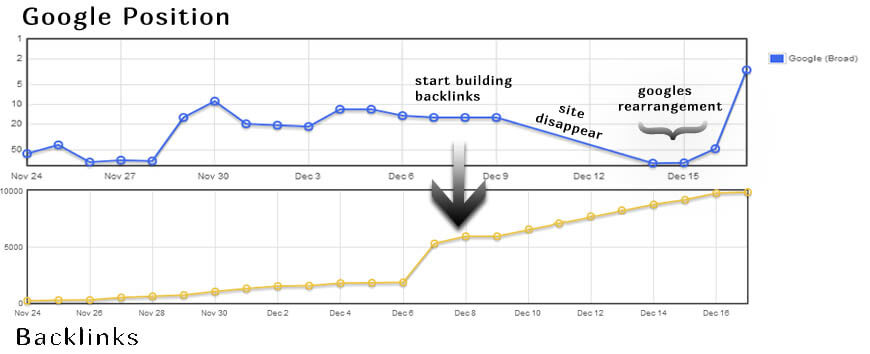 Start building backlinks
Above you can see that with the start of a blast google decreases the ranking of a page. That is absolutely usual.
Disappear
Sometimes sites completly disappear from the google index. But as you can see it will come back stronger!
Googles rearrangement
Now google takes a look at the amount and quality of the new backlinks and tries to rearrange the SERPs (
S
earch
E
ngine
R
esult
P
ages).
Because of your nice new backlinks google gives your site a higher ranking.
So what do we learn from that real example?
Don't be sad if your site went back in google after you run our Backlink Service. It will come back with a stronger ranking.
That could take some days, some week or even a month. Just depends on the size of new links, the general situation of your site and even on the competition of your keyword.
With the
Blackhatlinks.com Backlink Service
you get quality links. Thats because we do not comment on "spammed to death" sites.
We use low OBLs blogs with a maximum external links of 50.
All links are guaranteed live. That means, we check each link we build for you if it is visible on the commented page and if it is crawlable for search engines.
So the amount of backlinks you buy is the amount of backlinks you get plus a 15% overdelivery.
Even if some links disappear you will get what you have ordered!.
If you have any further question feel free to
contact
us.