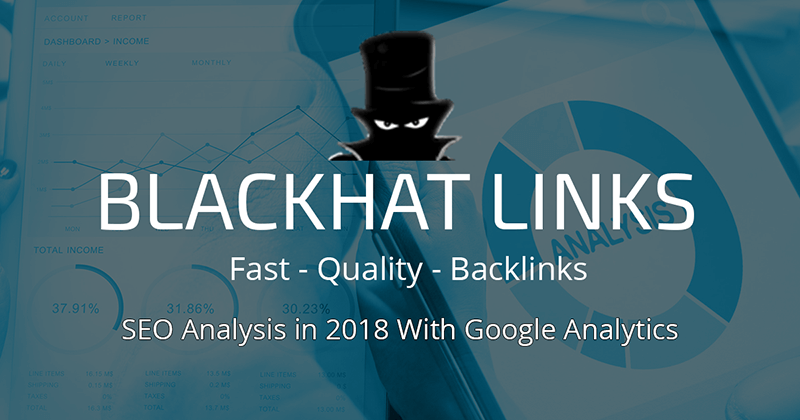 SEO Analysis With Google Analytics
One of the main factors behind successful online businesses or marketing campaigns has been effective SEO analysis. If you're a business owner or a marketer, then you understand just how important it is to gather data that allow you to make informed decisions on how to make your business grow.
Google Analytics is a tool that gives you key data and information on how your customers are interacting with your online content, and lets you know what works and what doesn't.
It doesn't matter if you're running a small e-commerce website, if you're a marketer employed by a large brand, or if you're just running a small blog with informational content: if you have a presence online and wish to boost your sales, improve the quality of your content or just get to the SERP's first page, Google Analytics is a must-have tool in your arsenal for SEO analysis.
In a nutshell, SEO Google Analytics helps you understand the "why" behind your traffic spikes, lows and whether or not your SEO efforts are working.
SEO Analysis: Understanding Your Customers
Google Analytics is a free service (although you can access premium features if you pay certain fees), that helps you analyze visitor traffic, what content they like and what content they need.
SEO Google Analytics has several dashboards that connect and gather data on every indexed page on your website and generate reports that help you understand who your audience is, and what they're doing on your website.
This means that once you filter certain data, SEO Google Analytics can tell you the exact route people take to reach your site, which content was viewed and what device they're using.  You can also configure your SEO dashboard to track certain goals (like newsletter subscriptions or content downloads) and even sales generated through your website.
Doing a thorough SEO analysis and filtering user data can even tell you if certain pages on your website are unknowingly sabotaging your sales process. Yes, it's that powerful!

SEO Analysis: Defining Online Objectives

We can label most websites under the following categories and figure out their goals and objectives based on the nature of the business. You can use this brief summary to figure out exactly what kind of data you'll want to review with a thorough SEO analysis
E-commerce
Sell products or services, increase sales, track your performance
Lead generation
Collect user information, test strategies and landing pages for optimal combinations
Content publishing
Boost repeating visitor number and engagement (why they come with your site and why they stay). The content they find organically, and content they could do without.
Branding
Awareness and loyalty, is your site being shared and being linked to?
Once you have your business goals and objectives defined, it's time to actually integrate Google Analytics tool to your website.
SEO Analysis: How to install Google Analytics
"Installing" Google Analytics in your website is fairly simple, you'll need to head over to google.com/analytics

You'll be prompted to create a google account or simply log in to an existing one. Having a corporate email for communications is recommended, but you must also have a Google account for your website and business.
You can take advantage of Google + for local rankings , Google Search Console and other Google tools such as the keyword planner with the same account.

Simply follow Google's instructions
You need to fill out the required information, and what you'll be tracking. Under account name, simply type out your business' name and select Website. Be as accurate as possible!
NOTE: all of this is for registration purpose and it does not modify how Google tracks your website's and user's information.
Now you can finally get your tracking ID.

Depending on how your website was built (With a Content Management System like WordPress, or custom coded by a programmer), you'll have different options to integrate your tracking code to your website
Google also gives you other options when it comes to installing its data gathering script and I recommend you review them and choose what's best for you and your website.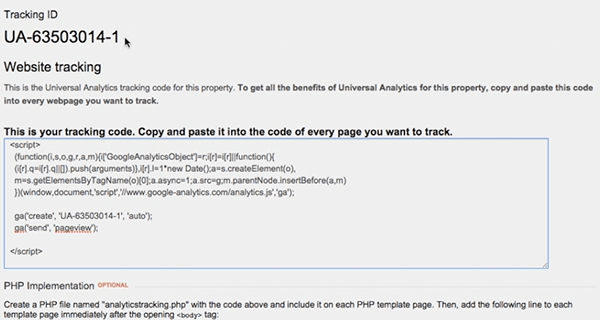 Make sure you check on your TrackingID Status once you've followed the instructions to make sure it's working and collecting data.

SEO Analysis: Key Concepts
Once your TrackingID status is working, it's time we review some basic concepts that you'll find throughout this guide and that are necessary for your SEO analysis.
SEO Analysis: Reports
Google organizes all the data that it gathers into different reports. Reports can summarize your traffic, where your visitors came from and exactly how effective and engaging your content is! When it comes to SEO analysis, reports are the bread and butter of SEO Google Analytics.
Being able to filter your data into meaningful reports (and interpreting its data) is fundamental to effective SEO analysis since it'll tell you – with hard data – how to make your website meet your goals and objectives.
We'll discuss some of the basic reports that are critical to business growth and conversions later in the article.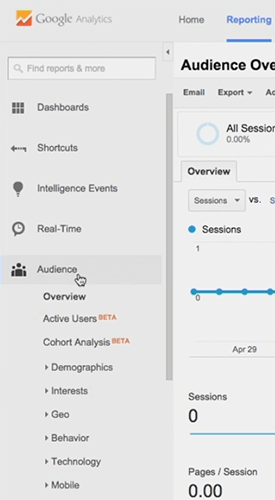 There are tons of reports in the audience tab that can give you information about your demographics, where they're connecting from and even what device they're using just to name a few.
Acquisition reports, on the other hand, tell you about your sources of traffic, how they navigate the site and common usage patterns that occur before a conversion.
Behavior reports allow you to understand how your prospects are interacting with your website
Conversion reports show you how each of the channels are working together to generate conversions (newsletter subscriptions, product sales, etc.).
I highly recommend you take a look at all the reports that Google Analytics offers. They are pieces of a puzzle that tell you what you're doing right and what isn't quite working for you, and the data they present needs to be interpreted as a whole.
Dimensions: they describe your user's characteristics, like for example their actions or sessions
Metrics: they are quantitative measurements.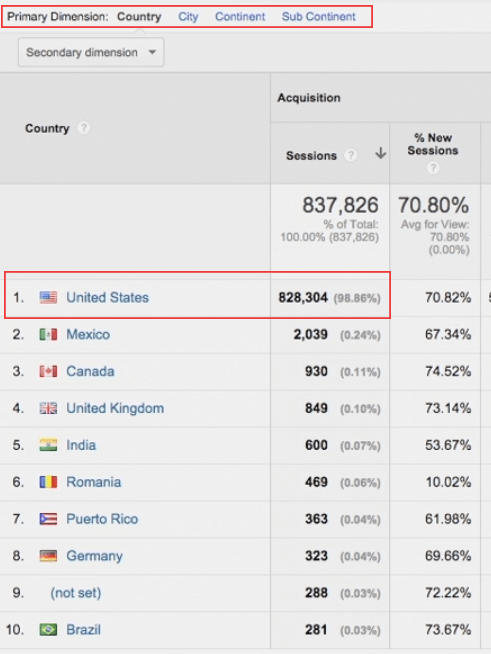 For example, in this particular report, your Dimension would be your user's country, and an observable metric would be the sessions from the united states (828,304)
 SEO Analysis: Audience Reports
One of the most important types of reports in SEO analysis is the Audience Reports. Like we mentioned earlier, they describe characteristics of your users, such as their country of origin, devices used, interests, whether they're new or repeating visitors etc.
The demographics report, for instance, tells you the age and gender distribution of your user. Online marketers use this SEO Google Analytics report to find out if their targeting efforts and keywords used are attracting the right audience and modify their website to cater to certain audiences.
You'll find that in SEO analysis, or more specific Google Analytics' SEO dashboard, the overview tab for each category is generally your first stop, and it offers an amazing amount of metrics you'll want to compare and track on a monthly or weekly basis.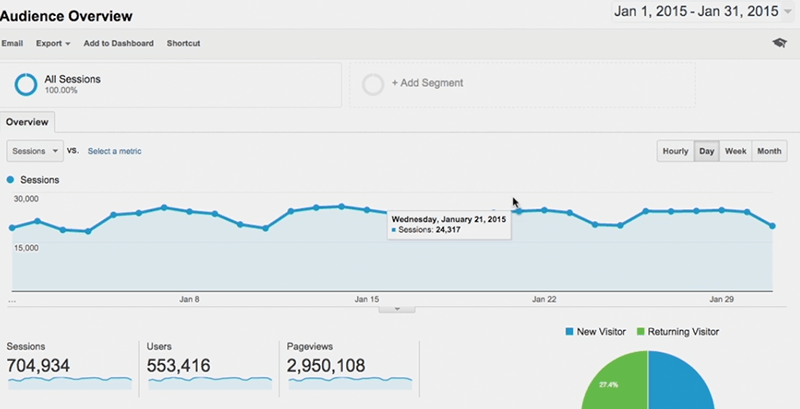 Any important drops or spikes in users will appear in the chart, and you'll be able to pinpoint the exact reason behind these events with more detailed reports.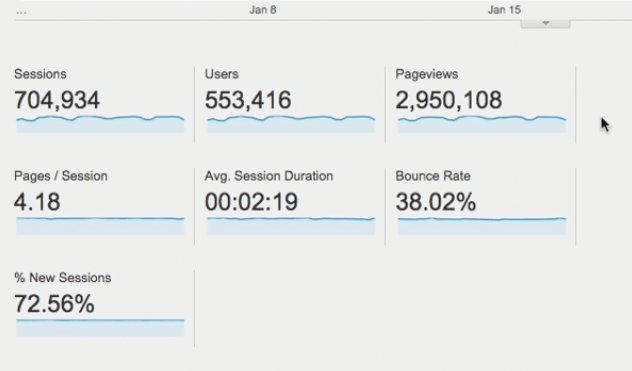 SEO Analysis: Behavior Reports
These reports allow you to understand what percentage of your users new, and how many of them are repeating users. You can combine data to figure out what kind of user converts more often.
Technology reports tell you what browser and operating system your prospects use. SEO google analytics experts use this particular information to figure out whether they should modify their websites to support different browsers.
One of my favorite reports for SEO analysis is the New vs Returning report because users that have just been introduced to your brand will behave differently from returning users. You can get some powerful insights into what sort of content or product keeps your visitors coming back.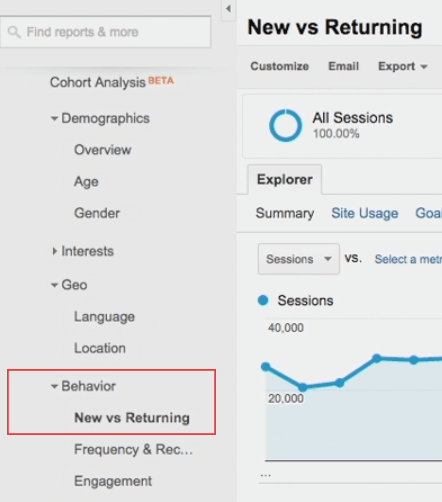 The Frequency & Recency report can tell you the average number of sessions and pageviews per session count, this allows you to track how much people end up coming back to your site, for how long, and how many days have passed since they returned.

SEO Analysis: Search Engine Optimization Reports
SEO analysis wouldn't be complete without taking a look at the data on its specific report tab. Go to your Google Analytics SEO dashboard and click on "Acquisition" and then "Search Engine Optimization"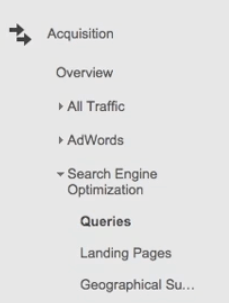 If you don't have Google Webmaster Tools linked to your account and business, you'll notice there's no data to be accessed. That's because when it comes to SEO analysis, a big chunk of your data comes from Google Webmaster Tools or rather, your Google Search Console. Go to your settings and link your search console/ webmaster tools with your SEO dashboard. Once it's linked, feel free to continue.

SEO Analysis: Query Report
A few years ago, marketers and business owners were fortunate enough to have a dimension called Keywords that would show you the exact keywords that were used to find a specific page on your website. This dimension still exists, but you'll find that most of the data is labeled as "not provided". This is due to some changes in Google's policies and encrypted searches (SSL) made by users.
The "Query" report now shows you terms that have been searched for (in connection to your site), even if it didn't end up in a visit from the user. This is what we call an "Impression"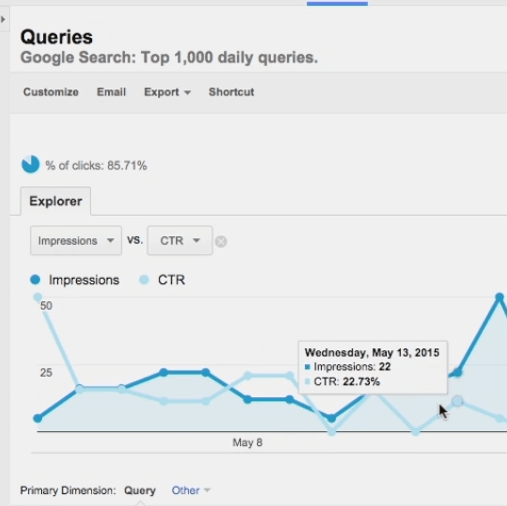 Like in many other reports, you'll find a graph detailing your impressions over time. You can compare this with other metrics, like for example "Average Position".

You'll see another line appear, and in this particular example, you'll want to see the faint blue line as close to 1 as possible over time. If that's the case, it means your SEO campaign is allowing you to climb to the top positions. This isn't the end-all report for SEO analysis, but it does give you an idea if what you're doing is working. Feel free to compare it to other metrics.
You can figure out what sort of keywords are bringing you most of your traffic and target them effectively. You might even find variations of these terms using the Google Keyword Planner tool and find new ranking opportunities.
SEO Analysis: Landing Pages Report
This report shows the URLs on your website that generate the most impressions in the SERP. The idea is to use this data to find out which of your landing pages have the best click-through rate. You'll often find during your SEO analysis that some of your highest click-through rate landing pages are also way down on the search engine result pages.
Keeping track of these potentially high converting landing pages and deciding whether you should buy PBN backlinks for them could end up being a game changer for your business.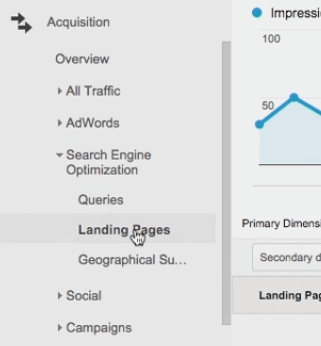 In this particular case, we can see that the landing page with the most impressions also has a CTR of 7.50%. Not bad, but with a position in the SERPs of 20, it's definitely not bringing in as many conversions as it could. Doing a light SEO analysis of this particular report, we could conclude that we need to review the SEO efforts (in terms of backlinks and on-page optimization) to further boost this landing page position in the SERPs.

Basically, the idea is to go through this report and figure out which landing pages deserve most of your SEO efforts and invest accordingly.
SEO Analysis: Other Useful Reports
Mobile: Google understood a few years back that mobile users were the future and prepared accordingly by giving it its own tab in the SEO dashboard. SEO analysis of these users is absolutely critical to businesses and blogs alike since they represent such a big chunk of today's traffic.
Tweaking your content for these devices is absolutely critical, so keep an eye on these reports and how mobile users browse your website.
Benchmarking: This tab shows you analytics data from other companies in your industry. Being able to compare your data to theirs is quite simply said, almost too good to be true (and yet it is!). You can finally take a look at average conversion rates and traffic in your industry and make informed guesses and projections for your own business and website.
Closing Words
We live in a world where data is king. Entire companies and industry giants deal with a very valuable currency for marketers: user data, and it's because they're necessary for businesses (small and large alike) to make informed decisions.
Thankfully, we have an exceedingly powerful tool in the form of Google Analytics for SEO analysis.
Being able to understand our audience, how they interact with our website and whether or not the time and money we're investing in our SEO campaigns are paying off just by filtering the (almost scary) amount of data this tool process is too good to pass on.
Knowing is half the battle and fighting the actual battle against your competition for the #1 spot on the SERP is equally important. Blackhatlinks.com is an industry leader when it comes to SEO rankings, and our private, secure network is guaranteed to boost your position in the SERPs and kickstart your business.

Don't waste any more time! Install Google Analytics, follow this guide, identify your top landing pages and pump some backlink juice to them from proven industry experts with over 136,000 orders completed!