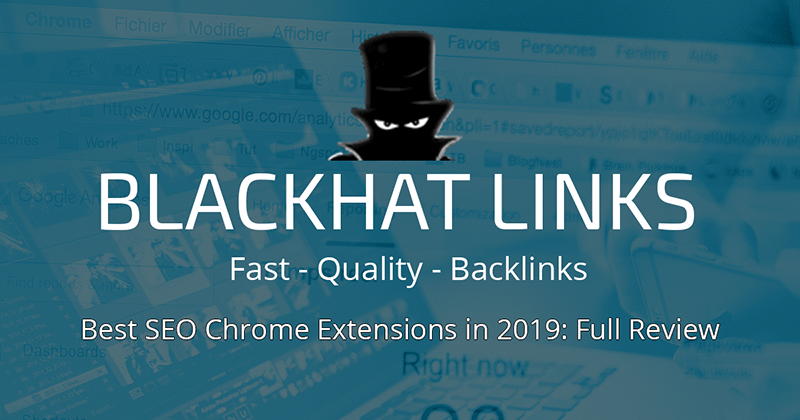 The Best SEO Chrome Extensions
Google is, without question, a leader in innovation and user experience, and their products and services accurately reflect this. More specifically, Google Chrome has proven to be an incredibly versatile and customizable browser. Many of these customizations come in the form of SEO chrome extensions, that have become increasingly necessary for effective SEO, regardless of your industry or niche.
Google Chrome itself has become an undisputed leader amongst browsers, taking almost 60% of the market share in 2018. I'm a diehard chrome user myself, and its thanks to all the SEO chrome extensions I use on a daily basis. They help me automate, track and optimize an incredible number of tasks, so I figured, why not share some of my favorite extensions?
Keep in mind, I'll be going through an incredible number of SEO chrome extensions: they'll cover metrics and relevant data tracking on websites, some of them are more technical and others will help you build your backlinks portfolio. I'll even suggest some extensions, that while not strictly SEO related, they'll help you save tons of time and really get the most out of the rest of your tools.
You don't need to use all the extensions I'll list, you can pick one of each category and create your very own best SEO chrome extensions suite. With that being said, let's get started!
SEO Chrome Extensions for Website Analysis
The extensions I'll list here are excellent for overall metrics and website analysis. They're not as specialized as some of the best SEO tools we listed in a previous article, but they'll help you save time and get relevant data while you browse.
SEO Quake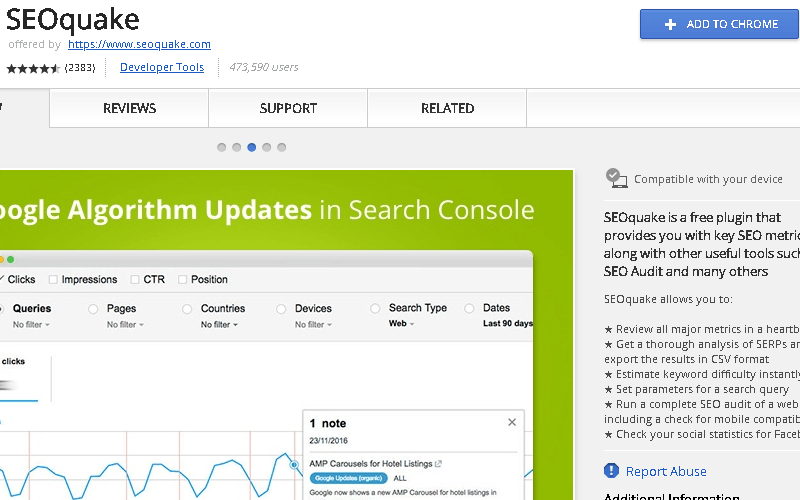 SEO Quake is an amazing SEO chrome extension that, while useful in itself, can become a powerful SEO tool if you integrate it with your SEMRush account.
SEO Quake goes beyond what most tools can offer you in terms of competition scouting. Right off the bat you'll get WHOIS info, traffic estimates, number of pages, domain age and even Alexa rank on anyone ranking for a specific keyword.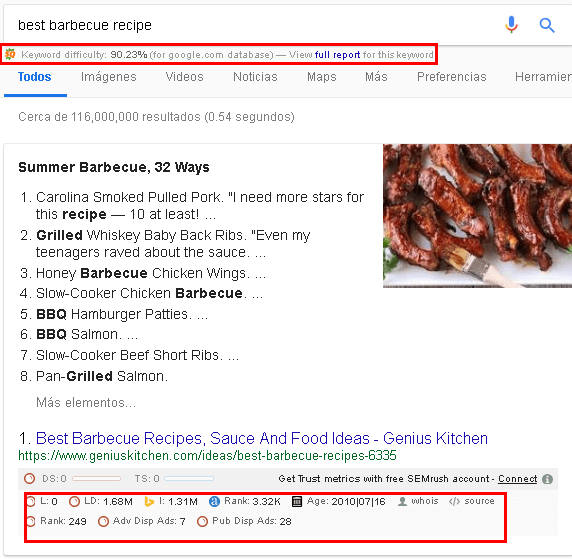 However, you can also use SEO Quake to perform a quick audit on your website and diagnose any issues you might be having, such as broken links or low keyword density.
It's overall a good tool to have, and if you already have a SEMRush account, then by all means download this seo chrome extension now and integrate it!
SimilarWeb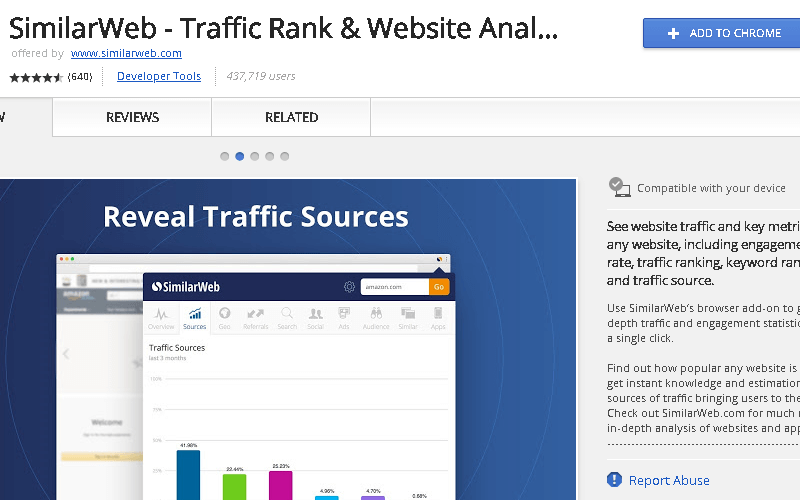 Often I'll find myself wanting to scrape basic data from competitors on a specific niche, and SimilarWeb is perfect for that.
SimilarWeb tells you what kind of traffic this website is getting, and how effective it is in terms of dwell time, page views, bounce rate. Hell, you can even know what country most of their users are from.
It also tracks what their top social networks are, their referral traffic and top keywords. It's an amazing tool for initial prospecting and competition scouting.
Mozbar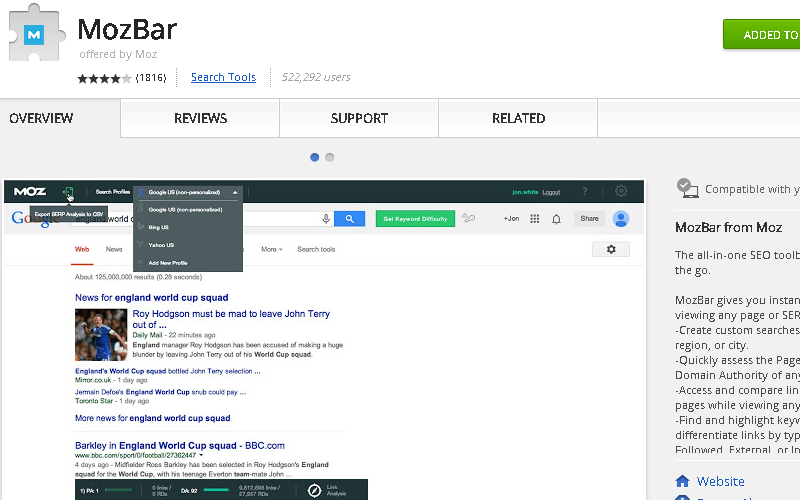 MozBar was the very first SEO chrome extension I installed on my browser, so it holds a special place in my heart. It remains relevant to this day because of the sheer number of things you can do with its free version:
Every time you conduct a search, you'll be able to see competitor's link metrics, on-page links (followed, nofollows, internal and external links), social metrics, Domain Authority, PageRank, etc.
The Mozbar can also extract data straight from a website, specifically its title, description, structured data, you name it. It's incredibly lightweight and easy to use, so it's also part of my SEO arsenal.
Page Analytics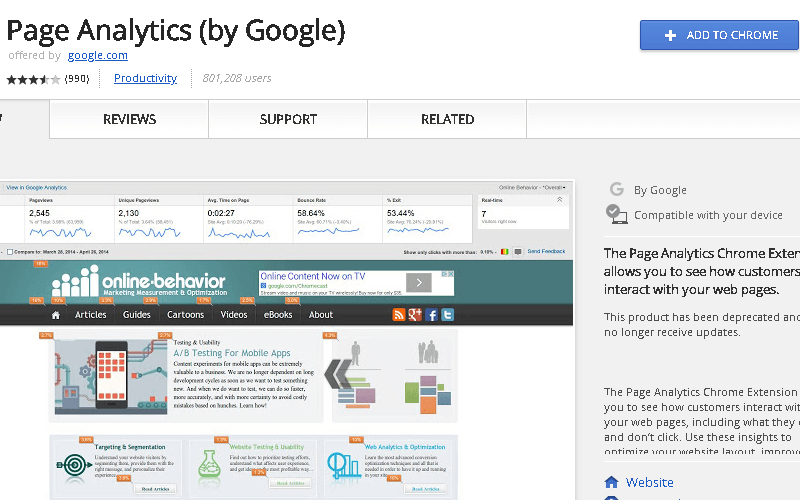 This next seo chrome extension is a major time saver, since it allows you to view data from your Google Analytics account in real time.
By the way, if you're not familiar with Google Analytics, or what it can do for you, be sure to check out our guide! It should be always be part of any SEO worth his/her salt's toolkit.
Page Analytics was developed by, you guessed it, Google themselves. It allows you to see relevant data such as:
Bounce Rate
Number of active visitors
In-Page click Analysis
Pageviews
Dwell Time
And other metrics, in real time. Understanding these metrics and how they work with each other will help you boost user experience and conversions.
SEO Chrome Extensions for Technical SEO:
These extensions are going to help you with some of the more technical aspects of SEO. Again, not nearly as specialized as an actual tool, but the idea is for you to detect potential problems in your website, and scrape data from your competitors without leaving your browser.
Ghostery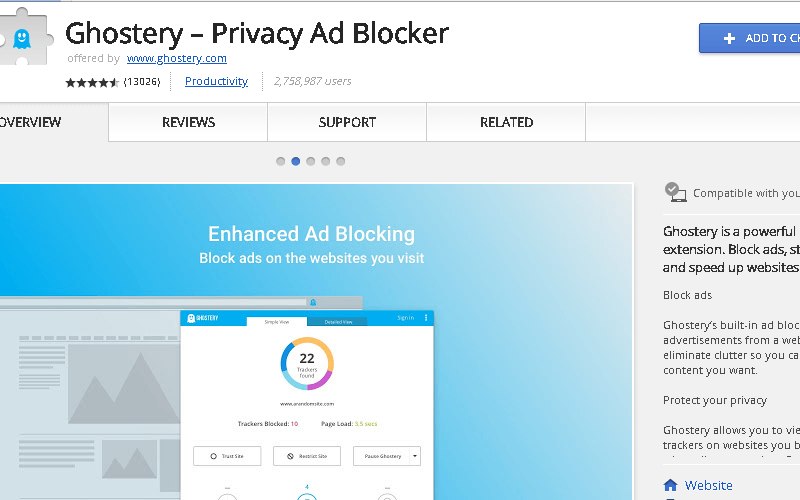 Ever felt like you're being watched? Well, you just might be!
Ghostery is an extension that lets you know what websites or services are tracking you for data. It could be Google Analytics, Facebook or something a little more troubling. While privacy is a big deal, these trackers could also be hurting your load times on your own website, and that's terrible for SEO and your rankings.
Every time you open a website (and Ghostery), you'll get a list of trackers which you can also block if you wish to do so. You can even figure out if your competitor is using specific ad networks for their revenue or targeting. Or, well you could also use it to block ads (there are better extensions for that though).
Scraper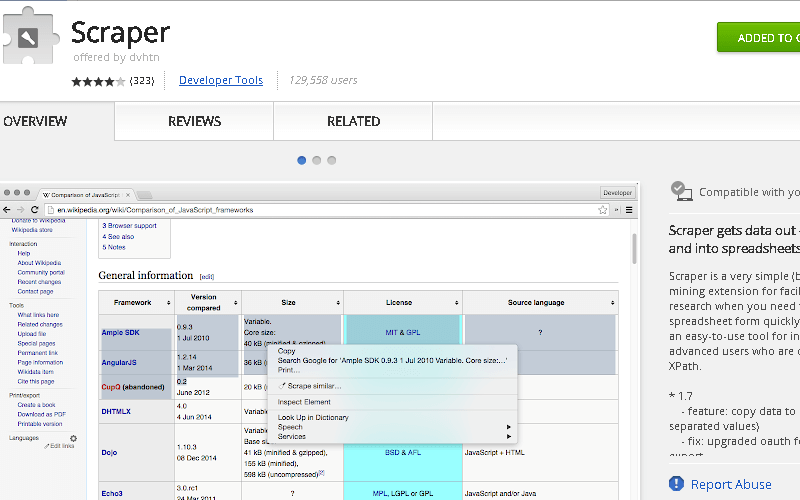 Effective SEO feeds off data, and sometimes you need to import massive amounts of data, especially if you're doing some competition analysis.
Scraper is one of the best SEO chrome extensions in that regard. You can pull structured data, code (or anything else really). With some minor configurations you can even link it to Google Sheets and import all your data with a single click.
Whether you're auditing a website, investigating your competitors or just scraping data for a project, Scraper should be your go-to seo chrome extension.
Meta SEO Inspector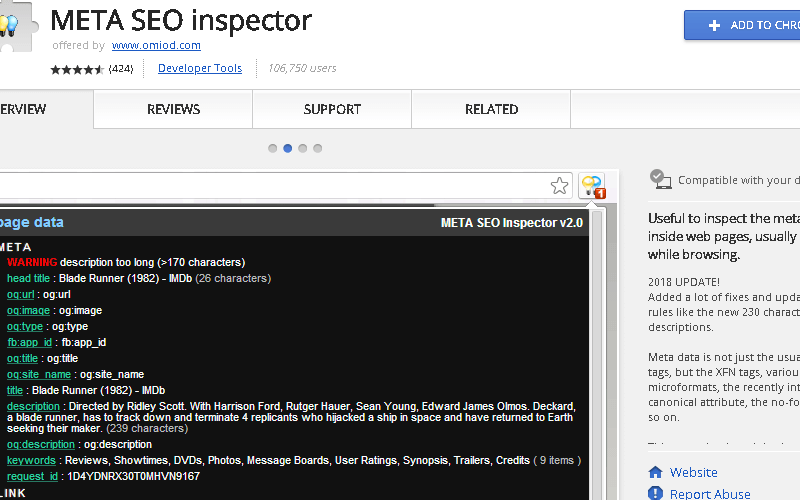 Metadata is basically information that helps search engines crawl and index our website. The META SEO Inspector chrome extension helps us check our meta description and canonical tags.
Sometimes very large websites (mostly e-commerce sites) have duplicates and spammy meta tags problems that can cause problems further down the line.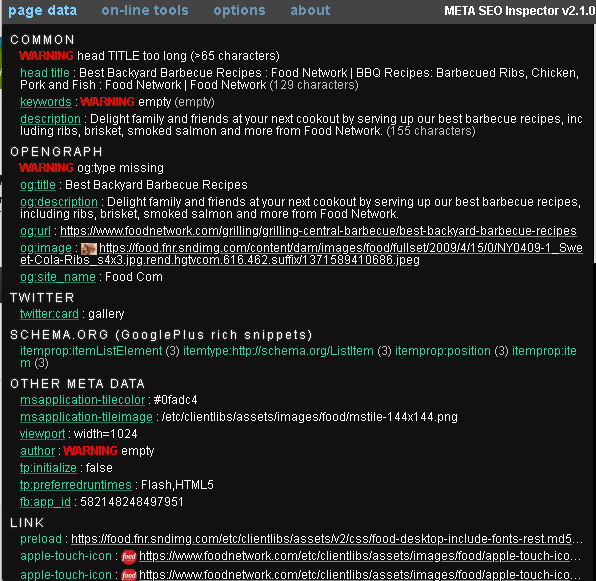 This SEO chrome extension helps us clear some of it out. We actually mentioned this and other potential pitfalls in our e-commerce website guide recently, so be sure to take a look!
Google Tag Assistant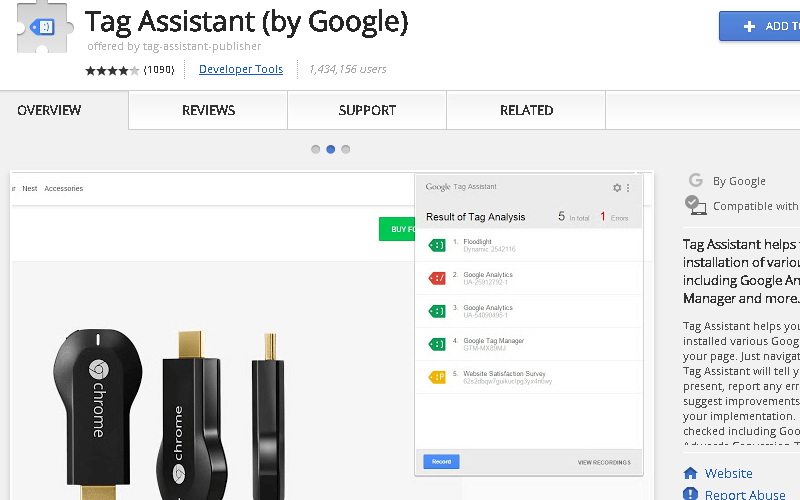 Don't you hate it when you lose weeks' worth of data because you botched your Google Analytics installation?  Now imagine messing up a remarketing, or an Adwords conversion tag. Now THAT'S SCARY.
Google Tag Assistant, thankfully, is here to help us with that.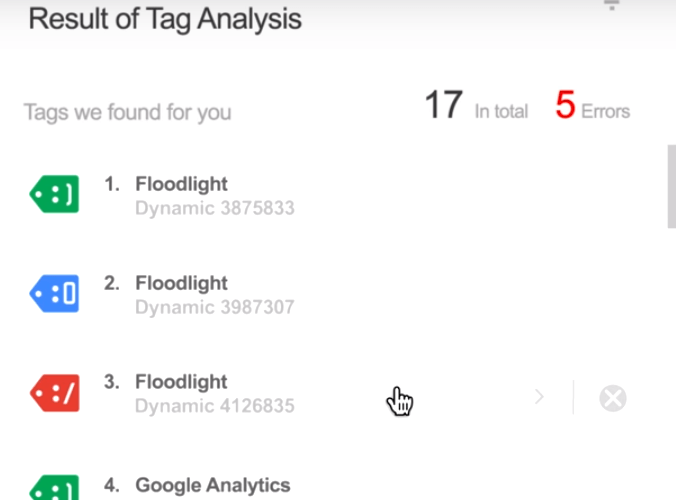 It's very simple to use. It'll show you, through a list, which of your tags are working and which ones aren't.
Green colored tags mean everything is working as intended
Gray tags mean there are no tags currently active on the page
Blue tags mean your tag could use improvement
Yellow tag mean there are minor issues you need to look at as soon as possible
Red tags mean they're not working.
As I mentioned earlier, you can use it to check on your Google Analytics tags, Adwords Conversion tracking tags, Adwords remarketing, etc. Great for site audits, or just for making sure everything is working as intended after an update.
Page Load Time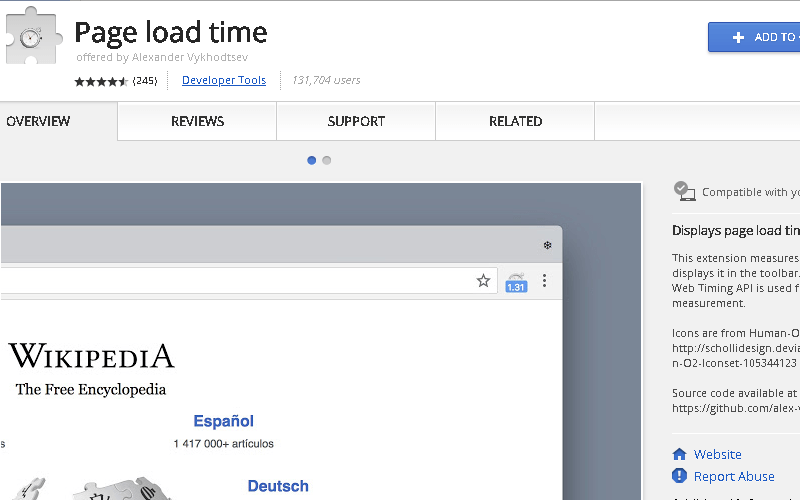 Recently we discussed voice search SEO and how important loading times are for ranking. Regardless if you're sticking to good old text-based SEO (or branching out to new voice search seo), you'll want to keep your website loading times as low as possible, and Page Load Time is here to help!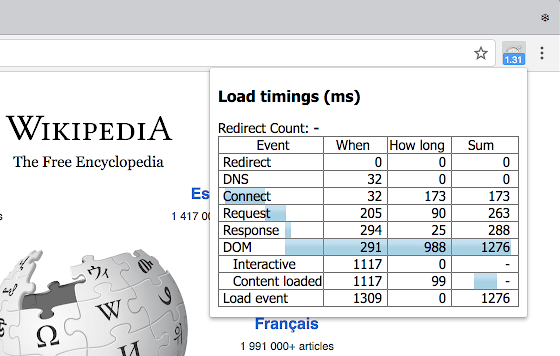 It's one of my favorite extensions for site audits, and while I like to use it paired up with the best SEO tools for optimizing a particular page or website, it straight up tells me if there's something off while I'm browsing.
SEO Chrome Extensions for Keyword Research
Keyword research is the cornerstone of any effective SEO campaign, and you'd do well to check out some of the other articles we've written on the subject. Having said that, I use a couple of SEO extensions that help me make my job considerably easier, at least in the initial keyword scraping process.
Keywords Everywhere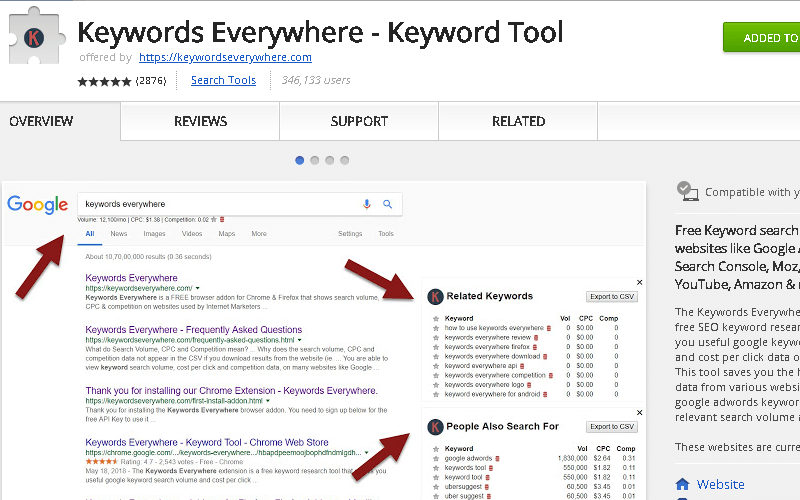 Quite simply said, I LOVE Keywords Everywhere. It's one of my favorite SEO chrome extensions, and one I always recommend to friends and colleagues. Here's why:
Every time you perform a search, some basic information will pop up just beneath your query, for example Volume and CPC value of the keyword. This data is extracted straight from Google's database.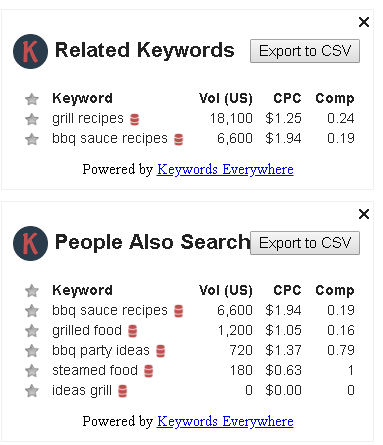 If you're a fan of Google's suggested keywords (which I am!), you'll notice Keywords Everywhere also shows volume and CPC value of those related keywords as well. Talk about a time saver!
If I see something interesting, I simply click the "Favorite" star, and the keyword and its data will get automatically saved to my extension's log. Then I can download all of the log and open it in Excel, or export it to Google Sheets as part of my keyword research.

Here's another tip that not many are aware: You can use Keywords Everywhere in a bunch of websites, such as:
YouTube
Amazon
eBay
Etsy
Ubersuggest
Any of Google's service family websites
Google Analytics
Google Trends
And many others.
Keep in mind you'll get data from the US and Canada by default. From what I understand the developers are incorporating data tracking from other countries, but it's still a work in progress.
BuzzSumo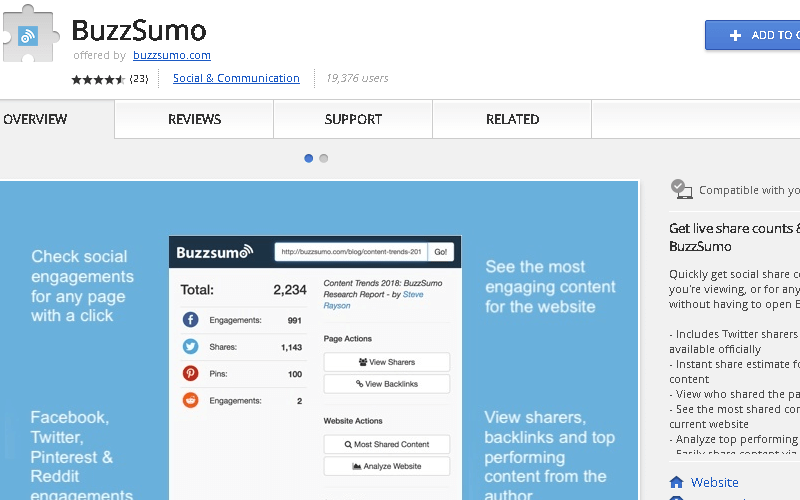 Buzzsumo Chrome Extension, while not strictly a seo chrome extension, it can be a powerful marketing tool. It allows you to find out what the most popular and viral content is on a particular topic, at a specific time.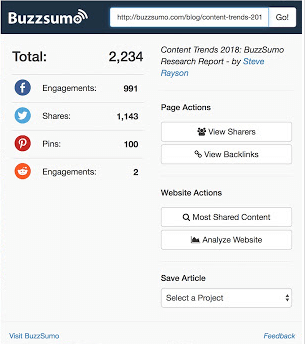 You can check for social engagement and backlinks the piece has generated and get valuable market insight on an industry or niche. You might find out if a particular niche is dominated by a social network or just get ideas on how to present content in an engaging and interesting way.
If you ask me, that's equally as important as having your full suite of SEO chrome extensions.
SEO Chrome Extensions for Backlinks
The SEO chrome extensions I'll list here won't necessarily net you tons of backlinks opportunities by themselves, but they'll help you keep your portfolio clean and if you're creative, you can use them with some of the outreach extensions I'll list later and get some backlinks for your website.
These tools are notoriously good for competition analysis as well, so try using them on other people's websites!
LinkMiner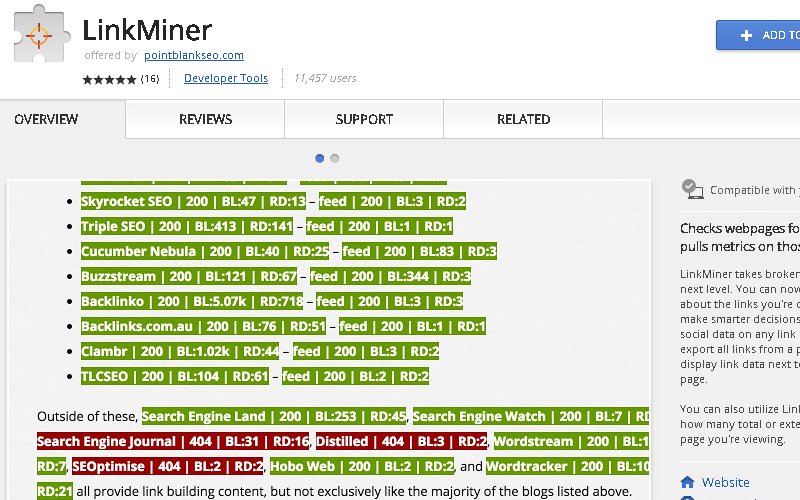 Part of having a healthy backlink portfolio is making sure there are no broken links (or turning those nasty 404s in backlink opportunities!). In that regard,LinkMiner is one of the top SEO chrome extensions out there.

You can integrate it to AHREF, Majestic or Moz, you can export your data with a single click too.
You can also use LinkMiner on other people's websites, so keep that in mind and get creative!
Majestic Backlink Analyzer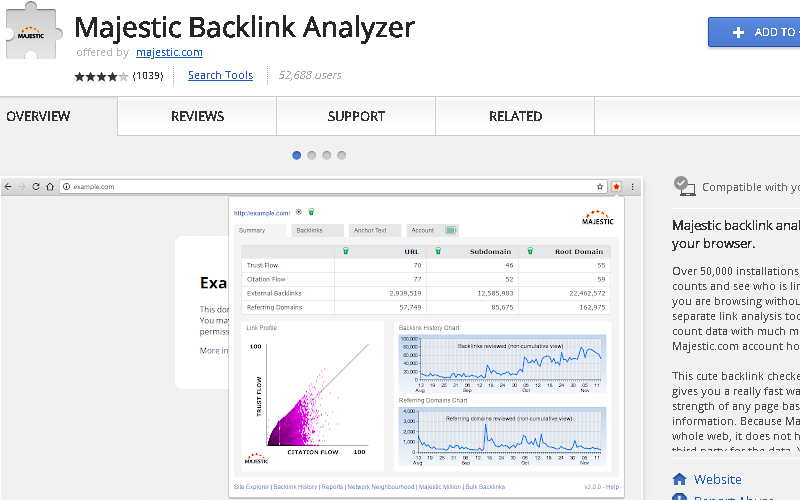 We can't discuss the best SEO chrome extensions and not mention Majestic Backlink Analyzer.
Majestic has been in the SEO industry for quite some time, and with an index even bigger than Moz's, it's easy to understand why they've remained competitive for so long.
Keep in mind that while this is a premium tool, it's one you might want to consider billing your SEO client for the duration of your campaign or contract.
Link Grabber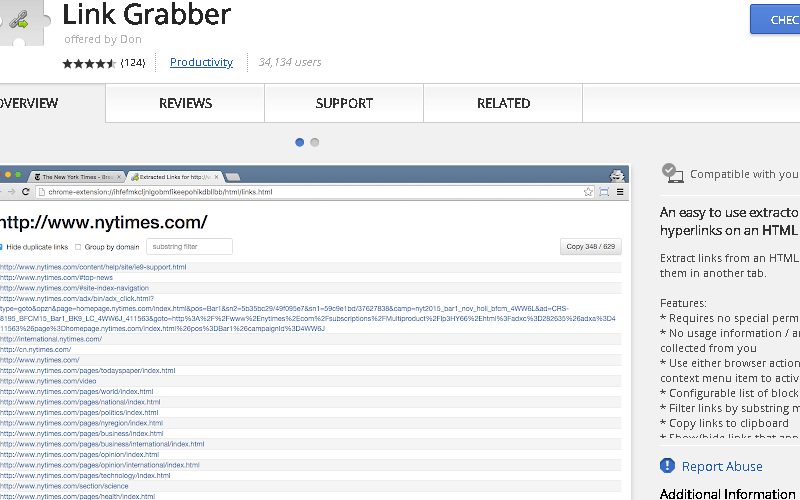 LinkGrabber is great. It extracts all the links existing in a website and allows you to display all of them in another tab. Getting sources, outbound links from competitors is an important part of any SEO campaign, so you'd do well to use Link Grabber for this.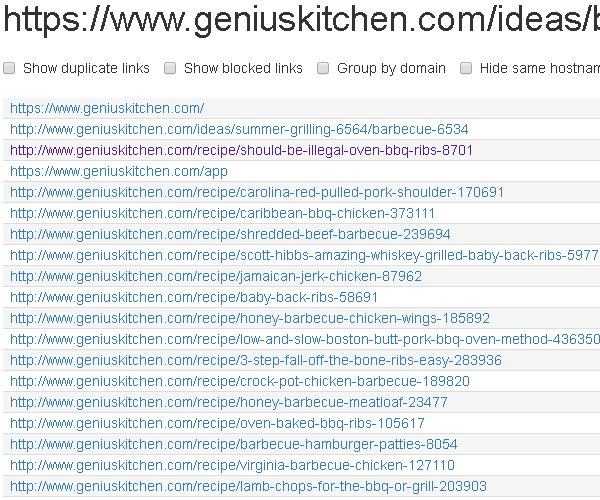 Needless to say, this extension has tons of uses outside of SEO, so it's wise to make it a part of your arsenal.
Marketing Tools
If you want to become an authority in your industry or niche, you'll need to know people. And more importantly, they'll need to know who YOU are. Making that initial contact can be difficult, so I'll list some of the SEO chrome extensions I like to use specifically for my outreach campaigns:
Hunter.io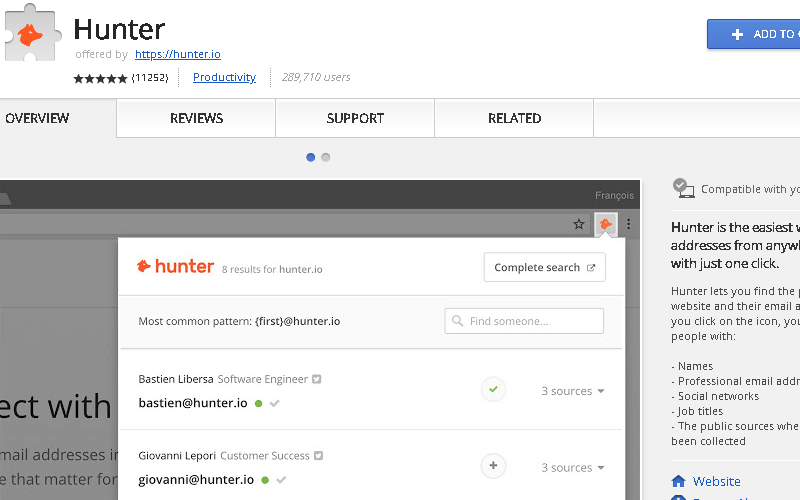 Email Marketing is far from dead! However, getting past the boring info@domain.com email that nobody reads, and contacting the actual owner of a website or influencer can be difficult!
Or, rather, used to be until Hunter made its way into our lives. So, scrape away, and turn your outreach efforts into effective backlinks for your campaign.
Note: Please be responsible when using this tool. Common sense, etiquette and respect goes a long way.
NAP Hunter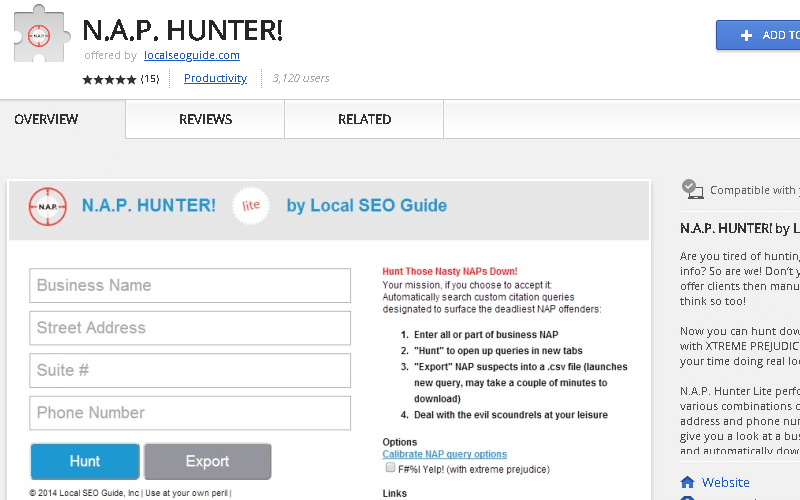 We talked about the importance of having a unified NAP information as part of our Local Business SEO step by step guide.
When I take over a client's account, I always make sure their citations and NAP information is properly standardized, and I use NAP hunter specifically for this.
SimilarTech Prospecting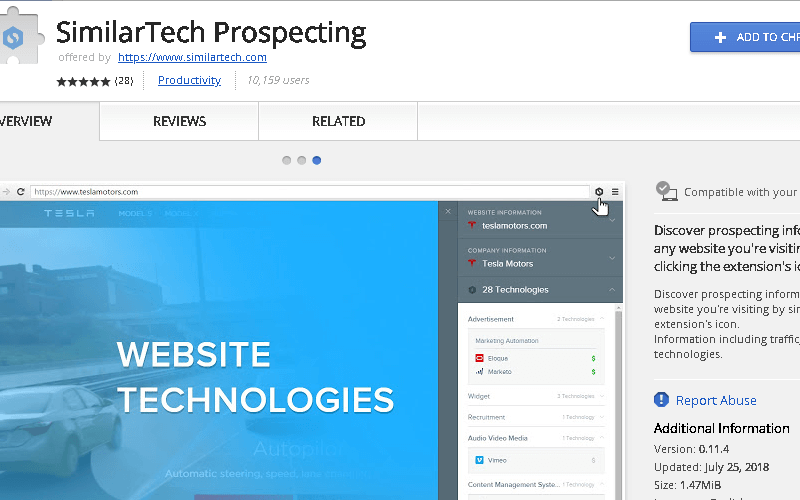 This is an amazing prospecting tool. Figuring out whether a particular influencer has quality traffic that you'll be interested in is fundamental for any outreach campaign.
SimilarTech Prospecting seo chrome extension allows you to get a general picture of what this website generated in traffic, along with their social profiles and web technology. Great tool for filtering initial candidates!
Ninja Outreach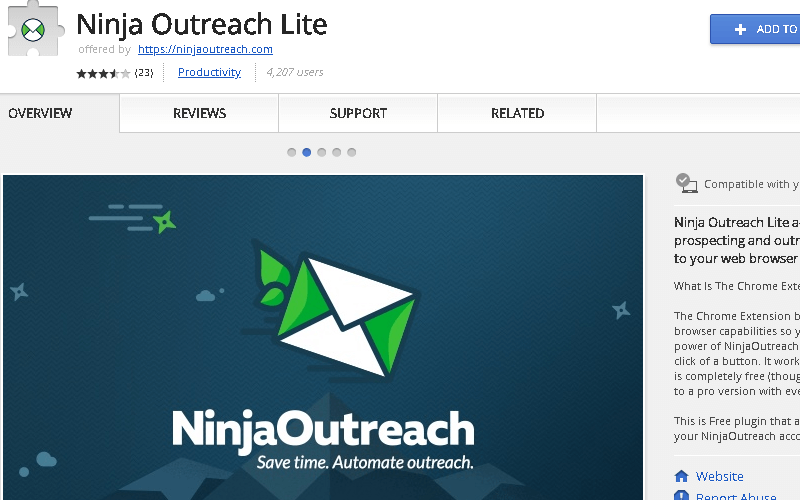 The team at Ninja Outreach knows what they're doing. When it comes to content marketing and outreach, they're among the very best.
Their seo chrome extension has only some of the functions the premium version of their tool has, but it's still incredibly powerful.
Ninja Outreach Lite gives you full names, location, social media metrics, email address, backlink, page authority, domain authority, etc.
Feel free to give the free trial a test run, and see for yourself just how useful it is for any content marketing campaign!
Miscellaneous SEO Chrome Extensions
The Chrome extensions I'll be listing here are not strictly SEO related, but they help you get the most out of the rest of the SEO chrome extensions I reviewed earlier.
They've changed the way I browse and work, and figure I'd do you a disservice if I didn't at least introduce you to them!
Redirect Path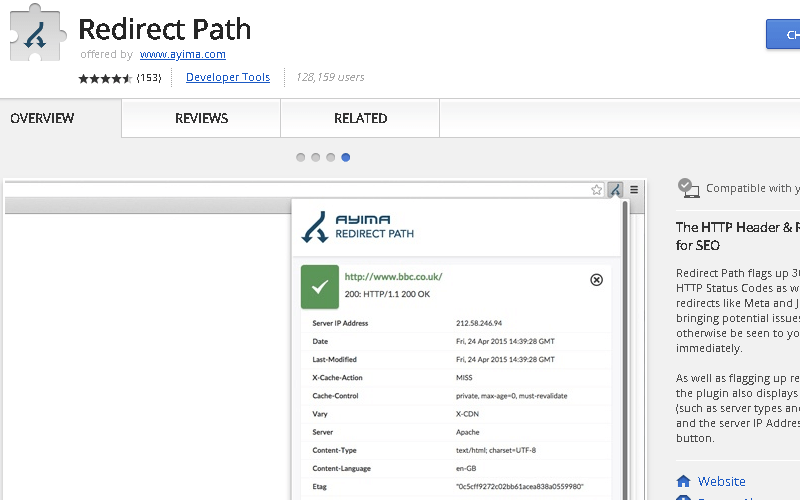 Redirect Path is a lightweight and useful SEO chrome extension that details the complete redirect path (and more importantly, the type of redirect) a link has at a given time.
This is particularly great whenever you're performing a website migration and wish to stablish 301 redirects to certain pages. You can also use it to find broken links at the same time.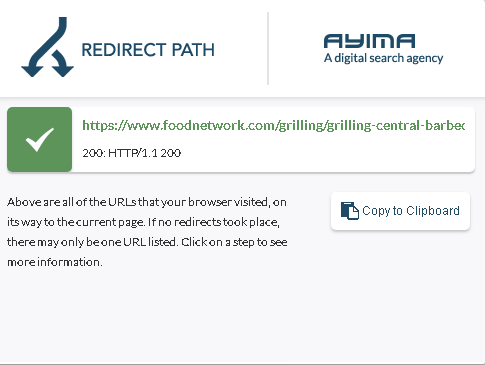 It has also helped me detect potentially damaging redirects on websites (mostly phishing links). But that's just an extra.
Grammarly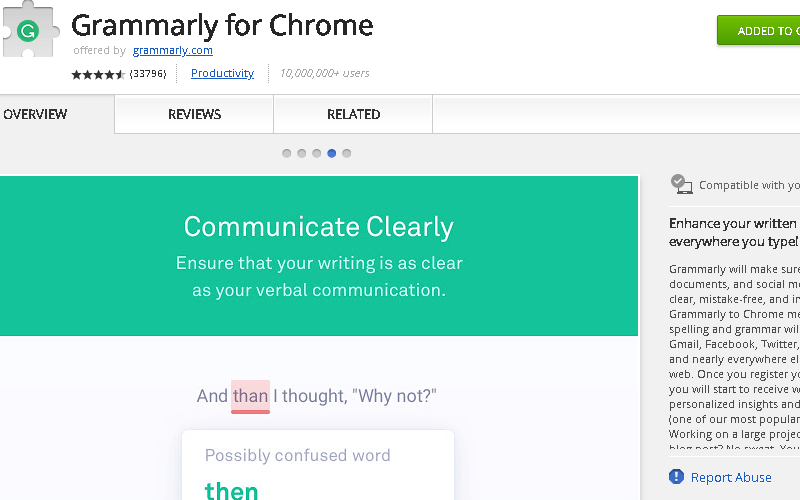 A big part of creating quality content, is making sure it's readable and highly presentable. Grammarly helps you with this. In fact, I'm using it right now!
Grammarly is a chrome extension that helps you correct mistakes, include commas and its paid version even has an antiplagiarism module.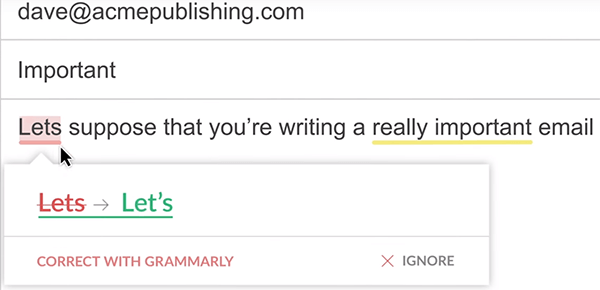 Grammarly will not only help you improve your English and writing skills, it'll also prevent you from typing embarrassing mistakes in a corporate email. I don't know about you, but if someone offers to work for or with me, and sends me a poorly typed speech sales, there's a good chance I won't even bother responding.
So, treat people (and especially employers) with the same consideration, effort and respect you'd expect from others!
Note Anywhere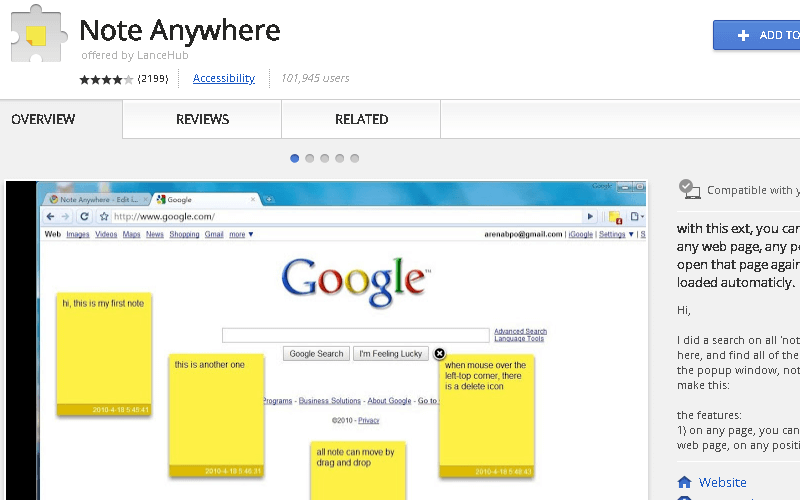 Note Anywhere is a gamechanger. In a nutshell, it lets you type notes (kind of like Post-Its) anywhere on a website.
So, for example, if I'm reading an article and I came up with an idea to implement what I'm reading to a client's campaign, I just type a note so that I don't forget. And it'll stay there next time I check up on it.
I got a task coming up? I leave a note at my homepage. Piece of cake.
It's easy to forget things with the amount of information we're exposed to, which is why having notes helping your future self out is incredibly underrated. Give it a test, and I guarantee you'll never uninstall it!
Wappalyzer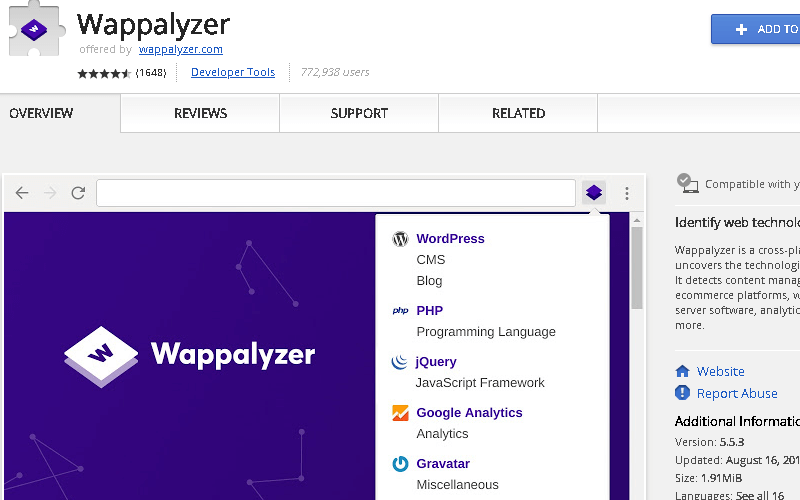 Every now and then, we run into a particularly awesome looking website, and we ask ourselves "I wonder if someone coded this from scratch, or if it's a WordPress theme".
Well, thanks to Wappalyzer, you can know just about everything a website is using at a given time, in terms of technology.
If the website is using WordPress, you'll know. If the website is also tracking user data with Google Analytics, you'll know! Hell, you might even find out they're using a specific plugin, like "Gravatar". That means it probably has BuddyPress installed too.
User Agent Switcher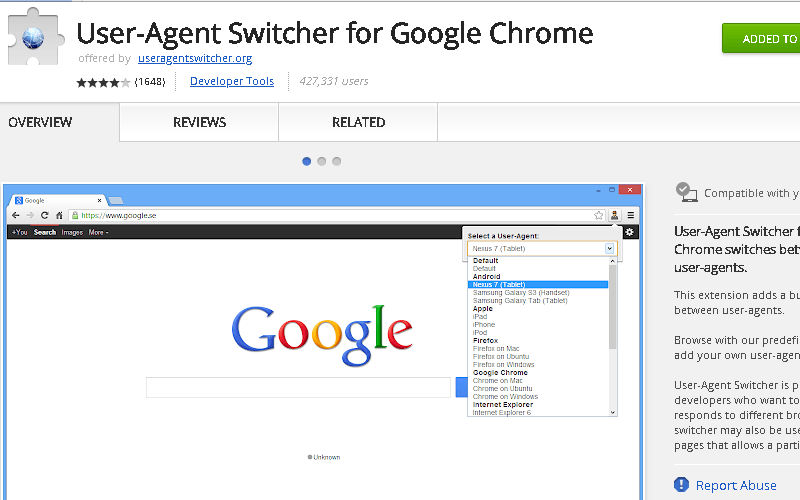 Having a responsive website is a tacit prerequisite for any functioning website and business that wishes to invest in SEO.
However, you'd be surprised how many websites have bugs for specific devices and browsers. Why? Because they never actually tested them!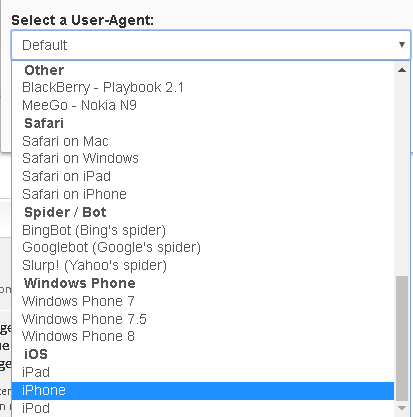 User Agent-Switcher is one of the best seo chrome extensions in that regard, because it lets you test your website on a number of different browsers and devices.
Forget asking your friend to test the website on his iPhone or Android device. You can now test websites all by yourself!
Alright, that's it for now!
There you have it! These are, in my opinion, the very best SEO chrome extensions out there at the moment, and they'll continue to be in 2018 and beyond. Feel free to download and support the developers of your favorite tools (if you feel like it!).
As a parting tip, I'd recommend only using the extensions you'll feel will make a difference in your day to day SEO tasks. Some of the SEO chrome extensions I've listed have a very particular function (that they excel at!) but that I find myself using once a month. So, having it as part of my permanent suite is not necessarily a good idea. You don't want to clutter your browser after all.
Thanks for reading, and I hope you enjoyed this rundown!