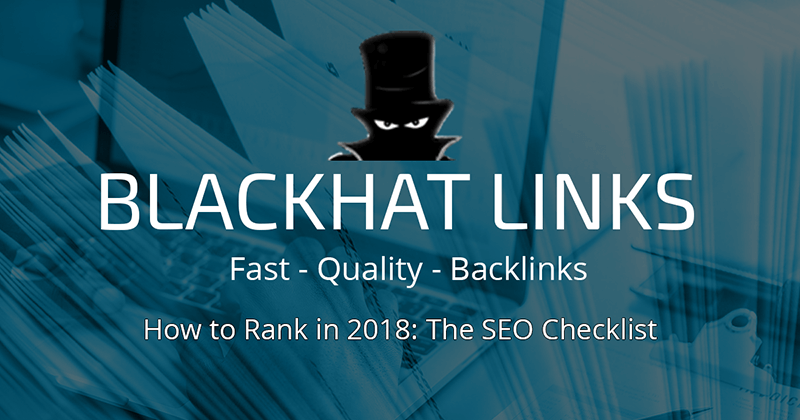 How to Rank: The SEO Checklist
Passive income generation is a goal for most businessmen. Knowing that you're actively generating money in your sleep sounds amazing, and many have found that a website is one of the most affordable tools to make this goal a reality. To that end, we've decided to create an SEO checklist that is going to help business owners, affiliate marketers or digital marketers understand how to rank a website step by step.
There are millions of websites, but not all of them generate income (even if they feature quality products and services!), simply because many are focused on creating a website and don't stop to think just how they're going to get their prospects to find them online.
This is why understanding SEO best practices is incredibly important in today's world. And if you follow this SEO checklist, we guarantee you positive results regardless of your niche or products.
Before you can even present your products and services to the vast internet, we need to figure out what your domain and web hosting service should be. This is why the first item on our SEO checklist are domains and web hosting, so let's start there.
The SEO Checklist: Domain Name

Your domain should properly reflect your website's goals and business. If you're a local business, you might need a domain that's Geo-tagged to in order to further boost your local rankings, on the other hand, if you're an affiliate marketer you might want to consider buying an expired domain on auction with pre-existing links.
So, how do we figure this out?
It's fairly easy, actually. If you're a small business, you'll probably want to build a website that revolves around your business name to further position yourself not only as a service provider or product distributor but also as a brand in general. To that end, you might be thinking about registering a new domain with your brand name on it.
However, this extra layer of control and brand positioning comes with a couple of downsides:
The Google Sandbox
New domains usually enter the "Google Sandbox". This means that your website is under "review" by anti-spam filters for up to three months before appearing on the search engines results page for your keywords. Website owners take this time to iron out details on the website and create content before Google officially lists them on their results.
While there is no official confirmation on this phenomena, there's a tremendous amount of users that experience this, and reports indicate it can last up to three months (and sometimes even more).
No existing backlink profile
New domains start from scratch. No one has linked these websites yet, and they start with a Domain Authority of 1. Moz defines Domain Authority as "how well a website will rank on search engine results pages" and it grades them on a scale of 1 to 100. New domains have a DA of 1, and it'll take SEO oriented efforts to elevate it (most, if not all of the most effective methods will be explained in our SEO checklist)
Purchasing an expired domain

This is usually done by businesses that don't need their website URL to build a brand in specific and wish to rank faster by avoiding the Google Sandbox with a healthy, relevant backlink portfolio.
For instance, an affiliate marketer that wishes to sell weight loss products will look for an expired domain that has been linked by weight loss websites (could be fitness authority websites or personal coaches' websites) and will brand themselves with whatever name the domain already has.
The downside?
Expired Domains can be costly
Depending on the quality of the backlink portfolio and how competitive the niche is, expired domains can cost hundreds of dollars. Experienced SEOs tend to get a good ROI on domains they've purchased, but if you're new to the SEO world, I wouldn't recommend doing this. You need to make a thorough evaluation of the domain before purchasing it because nobody likes shelling out $200 on a domain only to find out it has a Google penalty on it.
Not great for branding
Back to our weight loss website example, maybe our affiliate marketer found a great weight loss expired domain, but the domain name is "themarcus.com". Maybe it belonged to a blogger that liked to record his weight loss progress and went viral briefly, meaning It's going to be somewhat tougher to market now that the original owner is gone. You get the picture.
What's our SEO checklist recommendation?
Buying an existing domain can be tricky, and even experienced SEOs get burned because they misjudged just how good a backlink portfolio was. Sometimes starting over new is the right choice and there are plenty of tools you can use to rank your website faster, like private blog network links (more on that later!).
If you're a small business, go for a country code top-level domain relevant to your country. They're usually cheaper, and leveraging Google's local pack with a healthy combination of PBN backlinks and social signals can get you to the top of the SERPs in a heartbeat. Check out our Ultimate Guide To Ranking Your Local Business article for extra tips!
Once you've crossed this off our SEO checklist, it's time for the next item: hiring a good web hosting service
The SEO Checklist: Webhosting Services

Sometimes, business owners are a little too optimistic about their web traffic predictions. They often go for the most expensive web hosting service because it has the highest bandwidth and storage capacities, or because it has a bunch of tools that "they might need later on".
More than often, new businesses don't need web hosting plans with obscene storage or the ability to host 10 different domains. They do, however, need a web hosting service that has the latest PHP scripts installed and the best loading speeds to guarantee good SEO ranking.
Google has stressed multiple times how important loading times are in user experience. They estimate that more than half of mobile users leave a website if it takes more than three seconds to load. They've even created several tools and resource pages to help you optimize your website's speed. Page Speed Insights to name one analyzes a webpage and suggests possible speed optimizations you should look into.
A web host that allows your website to load fast will improve your user's dwell time (time spent reading your content) and lower your bounce rates (percentage of users that click your website and leave immediately), both important SEO rankings factors. This all relates to positive user experience, one of the cornerstones of SEO best practices.

Once you've figured out your web hosting provider, it's time to move to the next item on our SEO checklist: your content.
The SEO Checklist: Editorial Calendar

Having a clear idea of what your website is, and its goals are essential to its success, but so is having your content planned out at least a couple of months ahead. You might be wondering why something this basic is in our SEO checklist, let me explain:
I've personally worked for many clients that decided they'd focus their content promotion strategy and backlink negotiations with other websites entirely through blog posts in the form or articles and product reviews. But once they posted their "money article", and a couple of supporting articles they came to terms with a dreadful reality: They've run out of content to post.
Now, you can blame this on a major oversight in terms of planning and overall lack of imagination/creativity on their part – and you'd be right!
But it's something that can be easily avoided with an editorial calendar. It doesn't have to be anything too fancy, just go ahead and create a Google Sheets documents (the Google Application that looks like MS Excel), and share it with your content creator (if you decide to outsource your blog's creation and content management). You'll easily cross off this item on our SEO checklist and it might even help you weed out business ideas with limited growth. Win/Win for everyone!

An extra tip in our SEO checklist is to harmonize your SEO backlink strategy with your editorial calendar. Include keywords, guest posting opportunities, product reviews, blog posts, informative articles – you name it!
Everything should be detailed in your editorial calendar, and if possible, you should also outsource your blog creation or at least sales content to a competent copywriter. Having quality content will boost your CTR (because properly presenting an article in the SERPS will create more clicks), it'll improve your user experience because they'll actually enjoy the content in it and of course your dwell time/session.
Longer session durations are a big SEO ranking factor, and it's one you can track with Google Analytics. So don't be afraid to leave your most important content pieces to people experienced in sales copywriting.
Whether you decide to outsource or create your own content, you'll always want it to be highly optimized around a certain set of keywords you wish to rank for. This is why our next item on our SEO checklist is keyword research.
The SEO Checklist: Keyword Research

This is one of the fundamental elements of our SEO checklist. A solid keyword research can often make or break any business or blog online. We could make an entire guide just based on proper Keyword Research, but to keep things simple in our SEO checklist, we're going to tell you the most important aspects of good keyword research.
Good Keyword Research takes your budget into account
Let's say you're a small business owner, and you distribute or create shoes. Imagine targeting high volume and incredibly difficult keywords that big brands like Nike and Adidas have cornered with paid ads and high-budget backlinks strategies.
You'd fall flat on your face, and if someone was audacious enough to charge you for a keyword research that completely misses the mark, then you'll also find yourself in the negatives early on. And nobody wants that.
Going after low-medium competition keywords that are in line with your budget and expectations is not a bad idea at all – especially if they're filled with commercial intent. For example, keywords with informational intent usually have the words "where", "how" or "when" included, while commercial keywords usually have words like "best", "reviews" or "top 10". You see these everywhere: "best iPad covers", "dell laptops reviews" etc.
Depending on your article's goals, you'll want to target informational or commercial keywords, and this is something that our SEO checklist highly recommends you implement right from the start alongside your editorial calendar.
Bottom-line is, a good Keyword research will guarantee high-quality traffic that will convert (whether it's in the form of sales or newsletter subscriptions). But it has to be in line with your budget and have reasonable income projections/estimates that justifies going after them.
The next part of our SEO checklist will review what SEO optimized web design should include and how important it is to web rankings.
The SEO Checklist: Your Website
When asked how to rank a website, it seems logical enough to analyze what high ranking websites look like and what they have in common. Based on real-life case studies, clients we've worked with and Google's SEO best practices, we'll cover this important topic as briefly (yet thoroughly) as possible.
Content Manager Applications vs Custom Made Websites

A lot of people ask us: should I go with a custom coded website or a WordPress website.
Well, when it comes to SEO ranking, there's not much of a difference between a well-coded website and a WordPress website with a good, SEO optimized theme.
Websites that are coded from scratch can be very expensive (unless you're going with a web designer that works with basic HTML and CSS). Basic websites featuring HTML and CSS exclusively are everywhere: they look outdated but they also load very quickly on browsers and they feature very little javascript codes which makes them plainer.
Sometimes these websites are highly efficient, especially if your target are customers over 35 or 40 years old. If the products you're selling require a sober approach, and simple presentations they could also be great. But even these basic websites are costly, and unless you know your way around these two languages (HTML and CSS) you'll have to rely on someone else to post your articles and manage your website.
In our SEO checklist, we recommend a mobile responsive, SEO optimized WordPress website with a premium theme.
Why?
Well, for starters, responsive websites are a must for good SEO ranking. Mobile users are on the rise, and it's a trend that will continue to grow; you need to focus on user experience for all of your users, and that includes making your website attractive and fun to navigate through.
WordPress is also very user-friendly when it comes to creating websites. There are many "drag and drop" themes that allow you to create websites in a matter of minutes without having to know HTML and CSS extensively.
WordPress also has a large community and support built around it, there are tons of developers and plugins that help you do just about everything you could imagine. Just be sure to keep your plugins up to date, and never download from dodgy creators, doing so will keep your website safe.
There's also an incredibly varied selection of premium themes that will help you cater to any target in terms of design. If you wish to manage your own website, picking the right theme will allow you to do so (we actually recommend that you do in our SEO checklist!).
The key takeaway here is that an attractive, responsive design will guarantee a positive user experience across devices (Google actually buries non-responsive websites in the SERPs, just so you know), a higher percentage of conversions and longer sessions (all important for website ranking).
Once you have your WordPress site set up, it's time to make sure it's properly SEO optimized. Feel free to cross this item off on your SEO checklist and keep reading!
The SEO Checklist: On page Optimization

Our SEO checklist wouldn't be complete if we didn't mention the importance of on-page optimization. Once you've selected your keywords, every piece of content (from the text, to tables, to images and embedded videos) need to be optimized around those keywords to maximize your page's chances of ranking in the SERPs.
We suggest you read our article on SEO for small business, specifically the On page optimization section if you need a detailed explanation of each item. For now, we're going to list a series of elements every content you publish should have.
H1,H2,H3 Titles with your target keyword
Keyword Density of 1-2%
1250+ Words Articles
At least Three LSI (Latent Semantic Indexing) keywords per main keyword.
Images filenames with your target keyword
Images alt tag with your target keyword included
TablePress plugin for tables
Use Schema.org meta tags whenever possible
Table of contents for long articles
2-5 Interlinks to other articles/pages in your site per content published
Another tip in our SEO checklist (and perhaps the most important tip in terms of on-page optimization) is to always create quality content: if your content lacks engagement and useful information that consistently brings values to your readers, then you'll see your sessions plummet (and your ranks along with it).
Optimization is important since it can help you topple pages with high domain authority and poor keyword optimization, but quality content trumps everything.
The SEO Checklist: Backlink Strategies

One of the latter but perhaps most important items in our SEO checklist, is having a coherent backlink strategy.
Backlinks are part of the top three ranking factor, and there are different takes and combinations, such as whitehat outreach marketing, influencer prospecting and link insertions, Greyhat web 2.0s and perhaps what's most effective, business owners that buy private blog networks backlinks for SEO ranking.
They are all valid approaches, but ultimately you'll want to adopt a strategy that best fits your budget and resources (mainly time).
Whitehat content marketing takes time and is generally expensive.
Influencer prospecting and leveraging link insertions is also time-consuming (scouting for engagement and other metrics is difficult!) and you'll probably have to sponsor products. Web 2.0s offer limited linking power in terms of topical relevance but are still useful if you can get a copywriter to write bulk orders for a good price.
PBN (private blog networks) links:
PBN backlinks allow you to control what your anchor text will look like, have incredibly high topical relevance in each link and are considerably cheaper than other options. The catch being, that you should order PBN backlinks from professionals.
Blachatlinks.com has completed over 130,000 orders and has successfully worked with over 13,500 clients over the years. It's fair to say, that when this many people invest in SEO rankings and consistently get results, investing in us for SEO rankings is a safe choice.

What you choose for your business, is ultimately up to you. But years of service in the industry and countless case studies verify that PBN backlinks will get your business on the first page of the SERPs the fastest, at the lower cost.
You've made it to the end of our SEO checklist!! Congratulations!
We hope you've enjoyed our insights and tips and tricks for SEO rankings. As always, feel free to drop a comment if you have any doubts or wish to work with us and get your website on Google's first page!