Are Private Blog Network (PBN) Backlinks Worth it?
Private Blog Networks (PBNs) have remained one of the most cost-effective tools to rank websites in the search engine result pages (SERPs). A PBN SEO campaign run by professionals is pretty much undetectable and allows your site to rank for highly competitive keywords in record time. The catch? ALWAYS buy PBN backlinks from professionals.
Unfortunately, not all PBNs are run by professionals (many of them are not even private, to begin with), so these investments end up being highly rewarding as long as they're part of a coherent (and properly executed) SEO strategy. We've built this multi-part guide to give you all the information you need to buy PBN backlinks the right way, so let's starts from the beginning:
What is a Private Blog Network?
A Private Blog Network (PBN) is a series of websites that an individual (or company) directly controls that is actively used to enhance a particular website's backlink profile. Direct control over these websites means that all the content and links published in this group of websites are managed by this entity in order to rank a client's website, regardless of its niche, goal or keywords being targeted.
PBNs are great for affiliate marketing sites, business websites, blogs, CPA marketers' sites and many other types of websites. Basically, if Google can index it, a Private Blog Network can rank it by granting complete control over your backlink profile, anchor texts distributions, volume of links and the rate in which they're fed to the main site.
Private Blog Networks fall under the "Blackhat" techniques categories, which is why it's absolutely crucial that you buy PBN backlinks from professionals exclusively. A competent Private Blog Network owner knows how to cover up footprints and trails that Google routinely check for.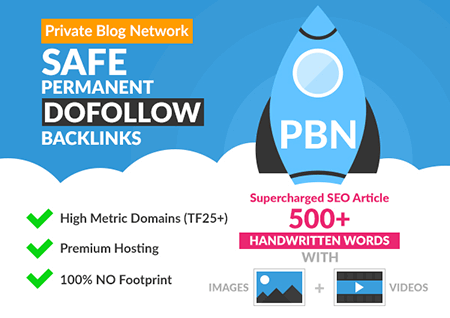 Differences Between a Private Blog Network and a Public Blog Network
True Private Blog Networks are made up of a series of websites that are only known to the creator (or owner) and remain so throughout time.
You can think of a Public Blog Network, as a formerly private network whose owner got overly greedy. They decided to start selling links on public forums and expose their websites URL as "proof" it exists. These Public networks are full of easily traceable footprints that Google has gotten extremely efficient at tracking down. Public Blog Networks are either run by greedy ex PBN owners or incompetent blackhat SEOs that are trying to maximize their profits at the expense of their customer's rankings.
Remember, if you're going to buy PBN backlinks, you must purchase them from professionals that understand how to properly hide their tracks and footprints. Tried and true PBNs usually have an extensive order list on their belt, and guarantee results over time, like we do.

Should I buy PBN backlinks?
Many companies and marketers will continue to buy PBN backlinks this year because they're still very effective. Google has tweaked its algorithm and detection methods over time, however, when PBNs are managed the right way, they remain undetected.
As long as backlinks are regarded as a ranking factor, PBNs will continue to work, (just as long as they don't leave any footprints that Google can track, and consequently de-index the network).
The mechanics behind it are also fairly simple, when you buy PBN backlinks, the private blog network will take the authority and topical relevance its domains have and funnel all of it to your website through a series of links and carefully picked anchor texts.
Aged private PBNs have gathered authority over time while remaining undetected, guaranteeing you'll get some massive boosts in each link you purchase.
The only way PBNs could fail to bring you value is if the Private Blog Network owner you buy PBN backlinks from is careless enough to get himself de-indexed by Google. We know this, and it's precisely why we spare no expense in staying anonymous and under the radar. We also regularly invest in ranking experiments in order to guarantee that our clients' backlinks continuously bring value to their websites.
This is also why you should never buy links from Public Blog Networks, or sketchy backlinks packs from freelancers in Fiverr or other freelancing platforms. They don't have the resources to reinvest in security, cloaking and new ranking methods like established companies do.

Costs Associated to PBNs
Alright, so whether you're thinking of starting your very own Private Blog Network or you're itching to buy PBN backlinks, you'll probably be wondering how much will it cost.
Starting your own PBN is possible, but tricky. For starters, a decent PBN will require an approximate investment of $4000+ and an expert in blackhat SEO that can efficiently work under that budget.
It's also extremely time-consuming; remember that this is a network of websites that are, for all intent and purpose, legitimate and private. If you decide to have, say, a 15 website PBN, you'll need time to run all fifteen websites, each with a unique online persona (complete online identity, social media profiles included). You will need 15 different hosting packages for each about 100$ a year, minimum 5 different domain registrar accounts with each domain for about $15 a year. You need to buy expired domains with average metrics for about $30 each or go for auction domains with better metrics ($150-$2000 each). Now you got the basics and you will need someone to design all the 15 websites what would costs about $100 for each because you will need custom blog theme, custom logo etc.. Then it's time to buy content for your blogs. Upload about 5 articles with 1500+ words to each blog. Each article would cost you around $20-$40.
Lets make a quick summary of all these costs for a blog network with just 15 websites:
Yearly:
Hosting: 15 x $100 (Premium Hosting) = $1500
Domains: 15 x $15  (Domain Registration) = $225
Setup:
Domains: 15 x 30$ (Average Metrics) = $450
or Domains: 15 x $300 (Better Metrics) = $4500
Blog Design: 15 x $100 (Logo,Theme…) =  $1500
Initial Content: 15 x 5 articles each $30 =  $2250
Ongoing Costs:
Blogpost Content (for your backlink): $50
Time for managing all this: depends on your hourly rate!
Maybe you can save a dollar here and there when you find a cheap writer or use coupons for hosting but thats the costs you should calculate for a 15 website PBN. As you can see the domain quality is a huge cost factor. Choosing the average metrics ( TF 10-15 / DA 10-20 with 10-15 Linking Domains) version you pay just $450 for all domains. But when you aim for a high quality PBN the costs dramatically increase to 10 times more. You can expect a TF 20+ / DA 25+ with 20+ linking domains when you invest $300 per domain.
Overall you can receive just 1-3 Backlinks from each of these 15 Domains.
So its it really worth it?
Think about how many backlinks can you purchase for $4000+ ?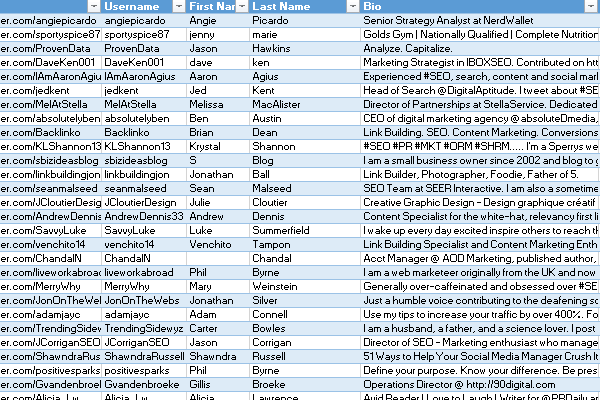 Organizing all this data is also difficult. Think of all the SMS, email verifications, proxies, domain registrars and web hosting information you'll have to juggle with. Running a Private Blog Network is a full-time job, make no mistake about it.
It's also important to consider: PBNs usage is the purest form of Blackhat SEO. PBN SEO is all about constantly reinventing yourself. Testing new ranking methods and cloaking methods to make sure your private blog network continues to fly under the radar, while also bringing massive value to your customers. It's not for everyone, and one mistake can cost you your entire investment. When we say it takes tried and true professionals to fulfill thousands of orders, we really mean it.
Think about all the links you can buy with $4000+, and ask yourself: Is creating my very own PBN network something I want to do? Am I ready to put my time and money on the line, or should I just hire professionals who do this for a living?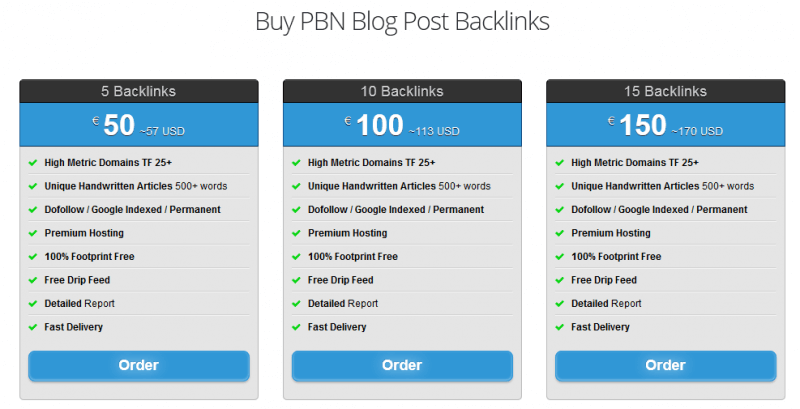 Differences between a Good PBN and a Bad PBN
I could sum up this entire section with a very simple indicator: a bad PBN won't rank your website and might earn you a penalty, while a good PBN will rank your website in the SERPs. The problem is you wouldn't know whether you made a good investment or not until three or four months after the purchase
Thankfully we're here to help, and we're going to list out some very basic things you should double check before you buy PBN backlinks.

Their Websites Are All Listed Under Different Registrars
There's an old phrase: "you get what you pay for" and it applies when you buy PBN backlinks from lazy service providers. If they decide to buy domains by the bulk and register them all in the same day with the same information to save time, then you're looking at a very high-risk investment.
Accessing this information is easier than you think: Imagine if most of the links that go to your website are from websites owned by a certain John Doe. Fishy, right? Google's Rankbrain alone can figure this stuff out, but imagine if you get slapped with a manual review. Your site and the entire network is done for and you both lose your money. And it's all because they decided to save themselves an hour of their time…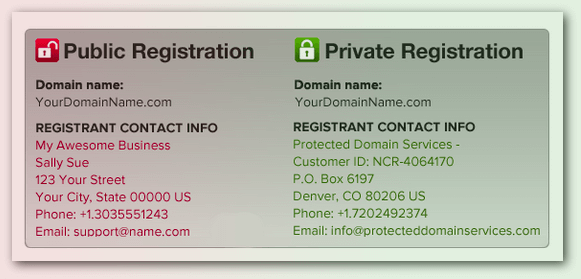 We at Blackhatlinks go above and beyond making sure our PBNs stay under the radar and you get the SERP rank your business needs. We not only have domains with at least 20 MOZ Domain Authority score, we use completely different registrars for them and clean WHOIS information.
Remember when you and your friend would get caught doing something, and you both told your teacher a different version of how things went down? You'd get caught instantly. It's the same thing with WHOis information and registrar data.
There's no point in using different registrars if you're going to use real data on your WhoIs information. Everything has to check out and it's important to be thorough. We even purchase whois protection, so if someone gets particularly nosy, they'll just end up in a dead end, after all, you can never be too sure!
They Invest In Original Content
This is a huge indicator and often separates good PBNs from bad ones. Good PBNs dedicate a large part of their expenses on original content because with it comes relevant and natural linking opportunities to their client's websites.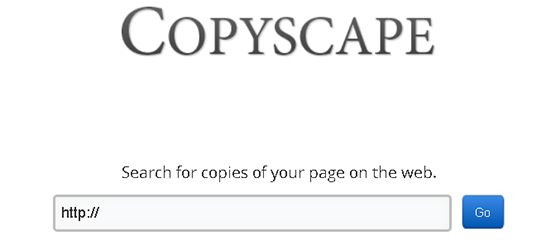 Copyscape is an excellent tool to find out whether or not the content you're being delivered is original, and if that's a public tool available to every average joe,  imagine the kind of stuff Google works with…
Spun content sticks like a sore thumb, this is why all of the content we promote on our PBNs is 100% handmade by expert copywriters, Copyscape passed and not spun. All articles or reviews are at least 500 words long, we even include media to support it and make it look extra original and inconspicuous to Google's eyes.

Many freelancer PBN SEO links are cheap, 200-word content articles full of links and keyword stuffing which won't establish topical relevance, plus it's going to make Google think you're buying spam links (because, with low-quality service like those, it's practically the same thing). If you're going to buy PBN backlinks, do it right!
High Topical Relevance / Niched Websites
When Google's algorithm evaluates how good a backlink is, it not only considers the referring domain authority and anchor text, it also considers if the content is relevant to YOUR website.
Beware of low quality PBNs
Low-quality PBNs tend to have a low budget layout that makes it hard for Google to understand what they're about, thus undermining their backlink power considerably. You'll be effectively paying more for lackluster results, all because of lazy, money-grubbing "Private Blog Network" owners that try to accommodate everyone while saving time for them. Sadly, it's a common practice in the industry.
Blackhatlinks.com understands that if you're going to buy PBN backlinks, you expect efficiency. It's not just the number of backlinks your website is going to have, it's also about how powerful they are when it comes to ranking for your targeted keywords. Quality, relevant content is important for this and it's something we never skimp out on.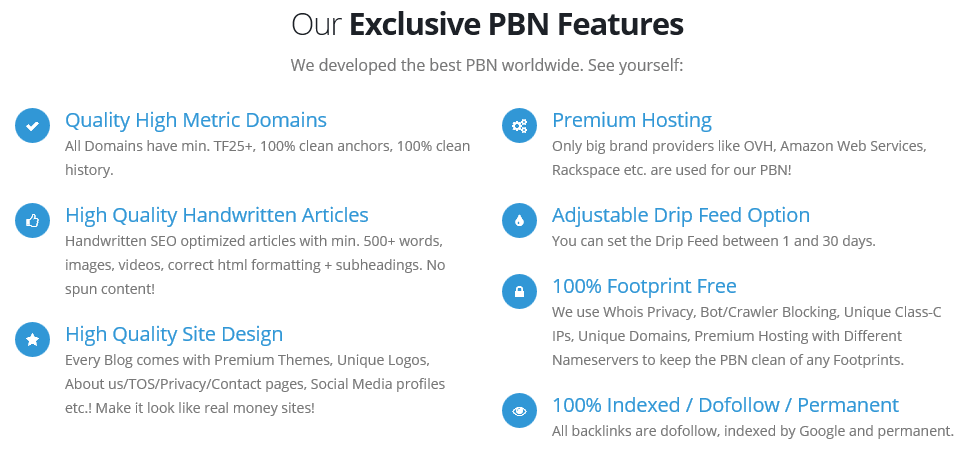 Good PBNs use quality hosting services
This is another hallmark of a quality product. When you're going to buy PBN backlinks, you want to avoid lazy Private Blog Network owners that get bulk deals for their hosting.
If they share IP addresses or are sequential IPv4 addresses (IE: 169.203.133.001; 169.203.133.002; 169.203.133.003, etc.), then Google is going to know exactly what's going on and render the entire network useless.
When you buy PBN backlinks from us, you get class A, unique IP addresses for each website. We take no chances when it comes to promoting our client's websites and constantly reinvest in methods to effectively cloak our involvement in all of our websites.

Closing notes
The general take away here is that if you buy PBN backlinks from professionals, you're going to see massive value for your site and a considerable boost to your rankings, for a very reasonable price.
However, if you decide to "save" money, and try some of the more obscure "backlink packs" from freelancers or fiverr, at best you're going to see very little value in the SERPs, and at worst, you'll end up with a penalty on your website. If you decide to cut corners, you'll end up working with other people who don't, and Google eats sloppy blackhatters for breakfast.
We, at Blackhatlinks.com, have fulfilled tens of thousands of SEO orders and helped thousands of internet marketers and business owners crush their competition with our SEO Service. We understand that when it comes to Private Blog Networks, every measure and trick that can help us stay under the radar is often the difference between a happy customer and a dead network.
Don't gamble your success, go with tried and true professionals and you'll see why so many internet marketers and business owners buy PBN backlinks from us.
Feel free to contact us if you have any doubts, and thanks for reading!