Social Signals Service – A new ERA in SEO
We just released our latest big THING!
Social Signals from Facebook, Twitter, Google+, Pinterest, LinkedIn, StumbleUpon and Reddit
We are proud to announce our new Social Signal Packages. We worked hard to develop the highest quality Social Signals service worldwide.
Our focus in development was to create a full-service package with all available Social Media Platforms. No other Social Share provider can offer a Service including ALL big players from the Social Media market.
Social Signals are the new way to go.
You have several good reasons to use Social Signals:
 No risk of a Google penalty – 100% google panda and penguin safe!
 Backlinks from highest metric sites (DA, PR,etc.) like facebook.com, twitter.com, pinterest.com, etc..
 Very detailed reporting
 Justify your link building efforts
 and many more.
Why is it so important to have shares from all major Social Media Platforms?
Most Social Signal providers offer just Facebook, Twitter, and Google+. Some additionally have Pinterest, too but that's all.
Does it make sense in googles eye, when your website is only share a thousand times on Facebook, Google, and Twitter but has not a single Signal from LinkedIn, Reddit, StumbleUpon or Pinterest?
We firmly believe that it's just a matter of time until google raise a penalty for those sites because it's entirely abnormal behavior and very easy to spot.
Now you can decide yourself if you want to take the risk and buy these unnatural Social Signals or spend a little more and stay safe!
Why choose us as your Social Signal Provider?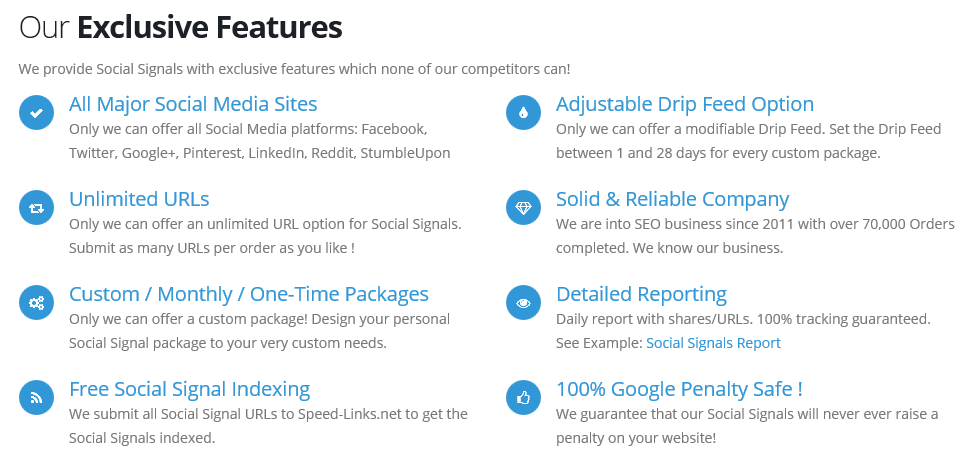 Blackhatlinks offers a monthly subscription, a one time package or a custom package you can tailor to your needs.
Social Signals Monthly Subscription
Social Signals One Time Package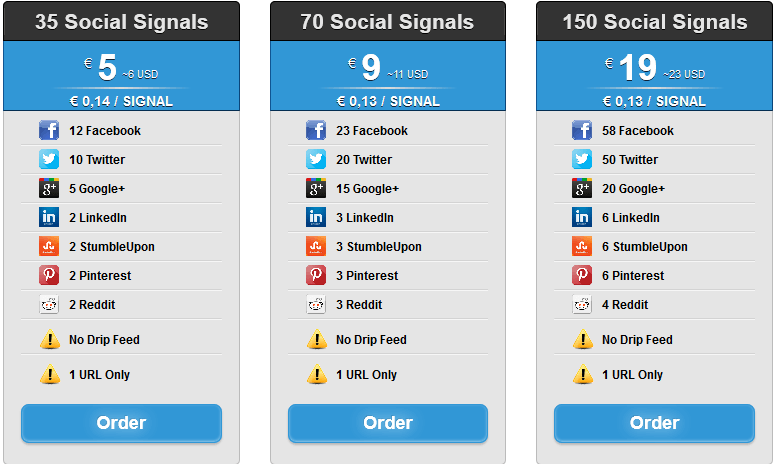 Social Signals Custom Package